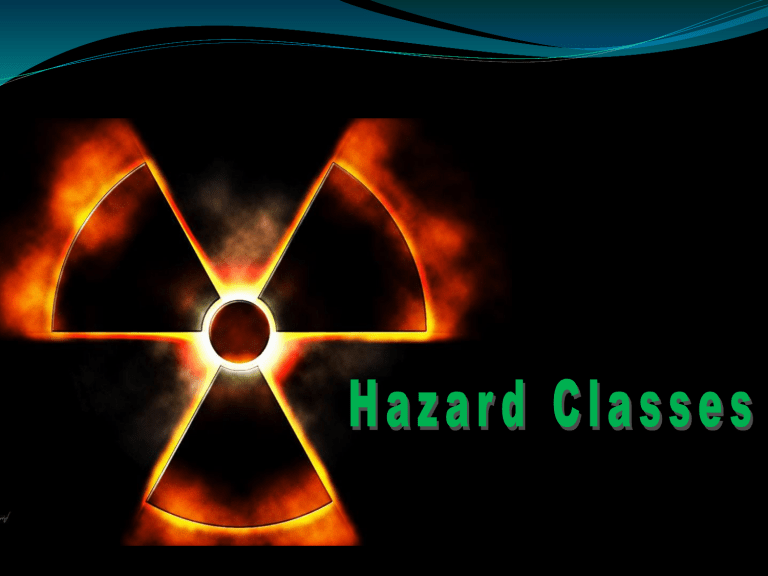 Learning Objective
 List the major hazard classes and the most common
material associated with each class.
 Describe the general hazards associated with each
class
Scope
1.Introduction
2.Classes 1 to 9
 General information
 Hazards posed by the
substance
3.Conclusion
Introduction
 What is HAZMAT?
 HAZ – hazardous
MAT- materials
 Substances that have the potential to harm living
tissues, damage property and pollute the environment
UN Classification of Hazmat
The 9 Hazmat Classes
 Class 1 : Explosives
 Class 2 : Gases
 Class 3 : Flammable Liquids
 Class 4 : Flammable Solids
 Class 5 : Oxidizing Agents
 Class 6 : Toxic & Infectious Substances
 Class 7 : Radioactive Substances
 Class 8 : Corrosive Substances
 Class 9 : Miscellaneous
Class 1 Explosives
Class 1 Explosives
General
 A chemical substance that in itself can react to produce a
gas at a relatively high temperature and pressure and at
such a speed as to damage the surroundings.
Class 1 Explosives
Classification
 Class 1 is sub-divided into six classes:
1.1 — Explosives with a mass explosion hazard.
1.2 — Explosives with a blast/projection hazard.
1.3 — Explosives with a minor blast hazard. (rocket
propellant, display fireworks)
1.4 — Explosives with a major fire hazard. (consumer
fireworks, ammunition)
1.5 — Blasting agents.
1.6 — Extremely insensitive explosives.
Class 1 Explosives
Hazards
 Most explosives pose a big fire hazard due to the very
nature of explosives.
 Danger of injuries via projectiles (E.g. shrapnel, debris etc.)
 Some explosives can cause mass explosion hazard. (E.g.
Black powder, Dynamite, TNT etc.)
 Ear rupture is caused by the sound waves
Class 1 Explosives
Blast Effects
Pressure front
Heat front
Projectiles
Sound wave
Class 2 Gases
Class 2 Gases
General
 A gas is a material in a state of matter that at normal temperature and
pressure tends to fill the space available (diffusion).
Class 2 Gases
 2.1 Flammable Gases
 E.g. Hydrogen, Propane, Butane
 2.2 Non-flammable Gases
 E.g. Nitrogen, Oxygen, Fluorine
 2.3 Poisonous Gases
 E.g. Chlorine, Arsine, Carbon Monoxide
Class 2 Gases
Flammable
eg. hydrogen, LPG
Non-flammable
eg. oxygen, nitrogen
Reactive
eg. chlorine, VCM
Corrosive
eg. chlorine, ammonia
Toxic
eg. hydrogen cyanide, chlorine
Class 2 Gases
Other Hazards
 Physical storage
 Gasses are difficult to store and the methods of storing these gases
pose a great hazard if not handled properly or not stored properly.
Class 2 Gases
Storage of gases
Compressed
General
Pressurised
Gas phase
Eg. air, acetylene
Hazards
Projectile
Liquefied
General
Pressurised
Gas/liquid phase
Eg. Liquid
Petroleum Gas (LPG)
Hazards
Prone to ignition
Projectile
Cryogenic
General
Very low temperatures
Liquid phase
Eg. ammonia,
nitrogen, oxygen
Hazards
Frost bite
High expansion ratio
Class 2 Gases
Effects of extreme coldCyrogenic Gases
Class 3 Liquids
Class 3 Liquids
General
 Physical properties
 Vapour pressure and
density affects behavior of
gas when the liquid
evaporates.
 Wider flammability range
 greater danger.
Class 3 Liquids
Hazards
 Flammable/explosive situation
 Due to its tendency to generate flammable vapour when released,
an explosive situation will always arise in the event of a leak 
Projectiles
 Flowing fire
 Due to the physical nature of liquid to flow, any release will affect a
large area causing fire to spread along drains, low-lying areas, etc.
 Toxic, corrosive, carcinogenic
 Some liquids can be toxic if consumed, corrosive to the skin and
even cancer-causing.
Class 4 Flammable Solids
Class 4 Solids
General
4.1
Solids that easily ignited
and difficult to
extinguish eg.
Magnesium
4.2
Air-reactive substances
(Spontaneously combusts
in air) eg.
white
phosphorus
4.3
Water-reactive
substances
Class 4 Solids
Hazards
 Explosive or toxic situation
 Generation of flammable or toxic gas/vapour
 Difficult to extinguish
 Once a fire has been initiated, it is difficult to extinguish metal fires
due to the high temperatures involved. Some metals can be so hot
that application of water can result in a steam explosion due to the
rapid expansion of water.
 Metal dust
 Can cause serious complications to health if inhaled.
Class 5 Oxidizer
Class 5 Oxidizer
General
 Substances that releases oxygen
 Generally, oxidizers are compounds which release
oxygen when they react with other substances
intensifying the fire.
 Examples of oxidizers are aluminium nitrate, fluorine,
hydrogen peroxides, etc.
Class 5 Oxidizer
Hazards
 Very reactive
 Oxidizers are very reactive compounds and will burn fiercely when
combining with combustible materials.
 Spontaneously combustible
 Under certain conditions they may also be explosive when in
intimate contact with ordinary combustibles. Examples of such
reactions are hydrogen peroxide and wood shavings
Class 6 Poisons
Class 6 Poisons
General
 Substances that cause death
or serious health effects upon
exposure through:
 Inhalation
 Ingestion
 Absorption
Class 6 Poisons
Hazards
 Interferes with bodily functions
 Carbon Monoxide – binds to red blood cells, deprives
body of oxygen
 Hydrogen Fluoride - binds to calcium in bones
 Cyanides – interferes with respiration
Class 6 Poisons
Effects of Arsenic
Class 7 Radioactives
Class 7 Radioactives
General
 Radioactive substances emits radiation
 Non-ionizing radiation - radio waves, UV,
infrared
 Ionizing radiation

E.g.
Alpha particles
Beta particles
Gamma rays
Class 7 Radioactives
Hazards
 Radiation sickness





Nausea
Vomiting
Diarrhea
Exhaustion
Haemorrhage
 Radiation injury
 Burns
 Radiation poisoning
 Cancer
Class 7 Radioactive
Class 7 Radioactives
Chernobyl
Class 8 Corrosives
Class 8 Corrosives
General
 Substances that can cause visible
destruction to tissue
 Acids
 Bases
 Most widely used in industry
 E.g. Sulfuric acid , Hydrochloric acid,
Sodium Hydroxide
Class 8 Corrosives
Hazards
 Skin and tissue destruction
 Reacts with metals - liberate hydrogen
 May be absorbed into skin
 React with chemicals - liberate heat
Class 8 Corrosives
Chemical burns
Class 9 Miscellaneous
Class 9 Miscellaneous
 Class 9 encompasses all hazardous materials that do
not fit into one of the definitions listed in Class 1
through Class 8.
 Example – Dry ice, pollutants
Conclusion
 Different classes of HazMat have different properties
and pose different threats.
 Knowledge of properties and hazards for different
HazMat classes allows us to take the appropriate
protective measures during an encounter, enabling us
to protect and save lives!