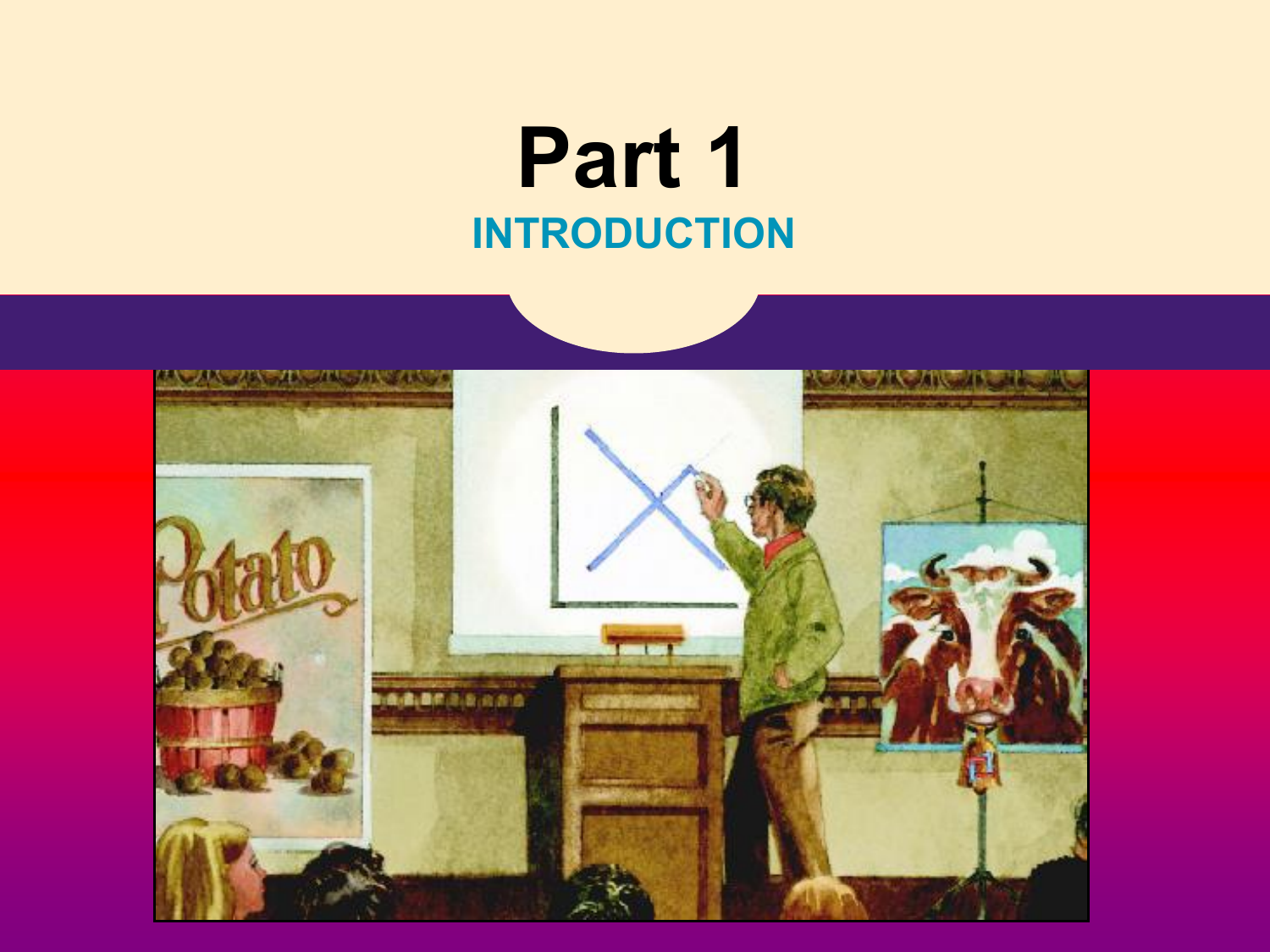 Part 1
INTRODUCTION
TEN PRINCIPLES OF
ECONOMICS
• The word "economy" is Greek word for
"one who manages a household".
Households and economies have much in
common.
• Household faces many decisions. It must
decide which members of the household
do which tasks and what each member
gets in return. Shortly, the household must
allocate its scarce resources among its
various members, taking into account
each member's abilities, efforts, and
desires.
• The management of society's resources is
important because resources are scarce !
SCARCITY  the limited nature of
society's resources.
• ECONOMICS  the study of how society
manages its scarce resources.
• Hence, we can say that an ECONOMY is
a group of people interacting with one
another as they go about their lives.
HOW PEOPLE MAKE
DECISIONS
#1: PEOPLE FACE TRADEOFFS
• Making decisions requires trading off one
goal against another.
• One of tradeoffs that the society faces is
between EFFICIENCY ( the property of
society getting the most it can from its
scarce resources) and EQUITY ( the
property of distributing economic
prosperity fairly among the members of
society). Efficiency refers to the size of the
economic pie, and equity refers to how the
pie is divided.
"There is no such thing as a free lunch!"
To get one thing, we usually have to give up
another thing.
– Guns v. butter
– Food v. clothing
– Leisure time v. work
– Efficiency v. equity
Making decisions requires trading
off one goal against another.
#2: The COST of SOMETHING is
WHAT YOU GIVE UP to GET IT
• OPPORTUNITY COST  whatever must
be given up to obtain some item.
• Decisions require comparing costs and
benefits of alternatives.
– Whether to go to college or to work?
– Whether to study or go out on a date?
– Whether to go to class or sleep in?
• The opportunity cost of an item is what
you give up to obtain that item.
LA Laker basketball
star Kobe Bryant
chose to skip college
and go straight from
high school to the
pros where he has
earned millions of
dollars.
#3: RATIONAL PEOPLE THINK at the
MARGIN
• MARGINAL CHANGES  small
incremental adjustments to a plan of
action.
• Evaluate by comparing MARGINAL
BENEFITS and MARGINAL COSTS.
#4: PEOPLE RESPONDS to
INCENTIVES
• Public policymakers should never forget
about incentives, for many policies change
the costs or benefits that people face and,
therefore, alter behavior.
• When policymakers fail to consider how
their policies affect incentives, they often
end up with results they didn't intend.
HOW PEOPLE INTERACT
#5: TRADE CAN MAKE EVERYONE
BETTER OFF
• A family wouldn't be better off isolating itself from
all other families. If it did, such family would
need to grow its own food, make its own clothes,
and build its own home.
• Clearly, that family gains much from its ability to
trade with others. Trade allows each person to
specialize in the activities he/she does best.
• By trading with others, people can buy a greater
variety of g&s at lower cost.
#6: MARKETS are USUALLY A GOOD
WAY to ORGANIZE ECONOMIC
ACTIVITY
• MARKET ECONOMY  an economy that allocates
resources through the decentralized decisions of many
firms and households as they interact in markets for
g&s.
• Firms decide whom to hire and what to make.
Households decide which firms to work for and what to
buy with their incomes. They interact in the
marketplace, where prices and self-interest guide their
decisions.
• Prices reflect both the value of a good to society and
the cost to society of making the good.
#7: GOVERNMENTS CAN SOMETIMES
IMPROVE MARKET OUTCOMES
• Although markets are usually a good way to organize
economic activity, this rule has some important exceptions
since MARKET FAILURES ( a situation in which a market
left on its own fails to allocate resources efficiently)
sometimes happen and the invisible hand can't ensure that
economic prosperity is distributed equitably.
• Possible causes of market failures: EXTERNALITY (
impact of one person's actions on the well-being of a
bystander), MARKET POWER ( ability of a single
economic actor [or small group of actors] to have a
substantial influence on market prices).
• Hence, the invisible hand needs gov to protect it.
• 2 broad reasons for gov to intervene: to promote
EFFICIENCY and EQUITY.
Info: Adam Smith and the Invisible Hand
• 1776, The Wealth of Nations, it shares a point of view:
Individuals are usually best left to their own devices, without the
heavy hand of government guiding their actions.
• "Man has almost constant occasion for the help of his brethren,
and it is vain for him to expect it from their benevolence only. He
will be more likely to prevail if he can interest their self-love in his
favor, and show them that it is for their own advantage to do for
him what he requires of them… It is not from the benevolence of
the butcher, the brewer, or the baker that we expect our dinner,
but from their regard to their own interest…… Every individual…
neither intends to promote the public interest, nor knows how
much he is promoting it… He intends only his own gain, and he
is in this, as in many other cases, led by an invisible hand to
promote an end which was no part of it. By pursuing his own
interest he frequently promotes that of the society more efficiently
than when he really intends to promote it."
HOW THE ECONOMY
AS A WHOLE WORKS
#8: A COUNTRY'S STANDARD of
LIVING DEPENDS on its ABILITY to
PRODUCE GOODS & SERVICES
• Almost all variation in living standards is attributable to
differences in countries' PRODUCTIVITY ( quantity
of g&s produced from each hour of a worker's time).
• Similarly, the growth rate of a nation's productivity
determines the growth rate of its average income.
• To boost living standards, policymakers need to raise
productivity by ensuring that workers are welleducated, have the tools needed to produce g&s, and
have access to the best available technology.
#9: PRICES RISE when the
GOVERNMENT PRINTS TOO MUCH
MONEY
• INFLATION  an increase in the overall
level of prices in the economy.
• Because high inflation imposes various
costs on society, keeping inflation at a low
level is a goal of economic policymakers
around the world.
#10: SOCIETY FACES a SHORT-TUN
TRADEOFF between INFLATION and
UNEMPLOYMENT
• This tradeoff can be illustrated by
PHILLIPS CURVE.
Summary
• When individuals make decisions, they
face tradeoffs among alternative goals.
• The cost of any action is measured in
terms of foregone opportunities.
• Rational people make decisions by
comparing marginal costs and marginal
benefits.
• People change their behavior in response
to the incentives they face.
Summary
• Trade can be mutually beneficial.
• Markets are usually a good way of
coordinating trade among people.
• Government can potentially improve
market outcomes if there is some market
failure or if the market outcome is
inequitable.
Summary
• Productivity is the ultimate source of living
standards.
• Money growth is the ultimate source of
inflation.
• Society faces a short-run tradeoff between
inflation and unemployment.