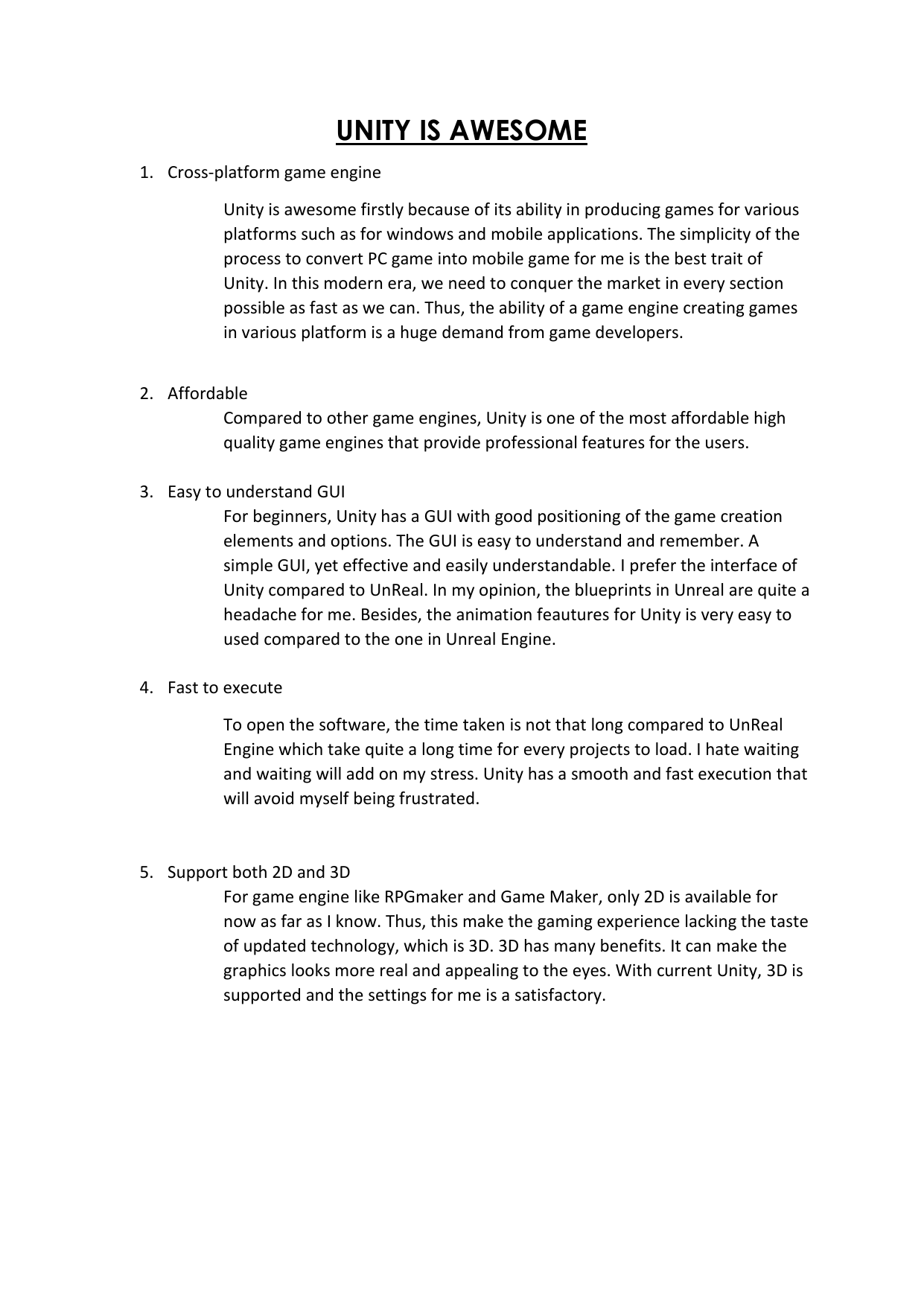 UNITY IS AWESOME
1. Cross-platform game engine
Unity is awesome firstly because of its ability in producing games for various
platforms such as for windows and mobile applications. The simplicity of the
process to convert PC game into mobile game for me is the best trait of
Unity. In this modern era, we need to conquer the market in every section
possible as fast as we can. Thus, the ability of a game engine creating games
in various platform is a huge demand from game developers.
2. Affordable
Compared to other game engines, Unity is one of the most affordable high
quality game engines that provide professional features for the users.
3. Easy to understand GUI
For beginners, Unity has a GUI with good positioning of the game creation
elements and options. The GUI is easy to understand and remember. A
simple GUI, yet effective and easily understandable. I prefer the interface of
Unity compared to UnReal. In my opinion, the blueprints in Unreal are quite a
headache for me. Besides, the animation feautures for Unity is very easy to
used compared to the one in Unreal Engine.
4. Fast to execute
To open the software, the time taken is not that long compared to UnReal
Engine which take quite a long time for every projects to load. I hate waiting
and waiting will add on my stress. Unity has a smooth and fast execution that
will avoid myself being frustrated.
5. Support both 2D and 3D
For game engine like RPGmaker and Game Maker, only 2D is available for
now as far as I know. Thus, this make the gaming experience lacking the taste
of updated technology, which is 3D. 3D has many benefits. It can make the
graphics looks more real and appealing to the eyes. With current Unity, 3D is
supported and the settings for me is a satisfactory.