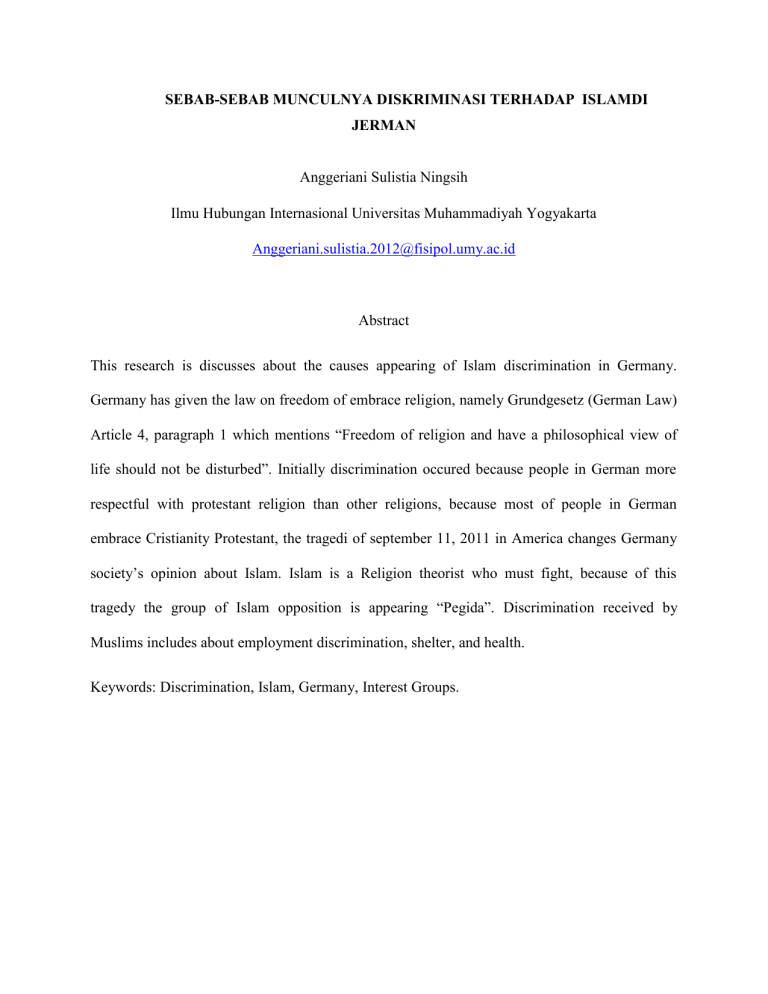 SEBAB-SEBAB MUNCULNYA DISKRIMINASI TERHADAP ISLAMDI
JERMAN
Anggeriani Sulistia Ningsih
Ilmu Hubungan Internasional Universitas Muhammadiyah Yogyakarta
[email protected]
Abstract
This research is discusses about the causes appearing of Islam discrimination in Germany.
Germany has given the law on freedom of embrace religion, namely Grundgesetz (German Law)
Article 4, paragraph 1 which mentions "Freedom of religion and have a philosophical view of
life should not be disturbed". Initially discrimination occured because people in German more
respectful with protestant religion than other religions, because most of people in German
embrace Cristianity Protestant, the tragedi of september 11, 2011 in America changes Germany
society's opinion about Islam. Islam is a Religion theorist who must fight, because of this
tragedy the group of Islam opposition is appearing "Pegida". Discrimination received by
Muslims includes about employment discrimination, shelter, and health.
Keywords: Discrimination, Islam, Germany, Interest Groups.
Abstrak
Penelitian ini mebahas tentang penyebab munculnya diskriminasi Islam di Jerman. Jerman telah
memberikan hak kebebasan dalam memeluk agama, yang disebut Grundgesetz (UU Jerman)
Pasal 4, ayat 1 yang berbunyi "Kebebasan beragama dan memiliki pandangan filosofis hidup
yang tidak boleh diganggu". Jerman lebih peduli terhadap agama Protestan dibanding agama
lainnya, sebab sebagian besar orang Jerman memeluk agama Kristen Protestan, kejadian 11
September 2011 di Amerika membuat pemerintah Jerman mengubah opini tentang Islam. Islam
adalah agama teori yang harus di perjuangkan, karena tragedi ini kelompok penentang Islam
muncul yang disebut "Pegida". Diskriminasi yang diterima oleh orang Muslim termasuk
mengenai diskriminasi pekerjaan, tempat tinggal, dan kesehatan.
Kata kunci: Diskriminasi, Islam, Jerman, Kelompok kepentingan.