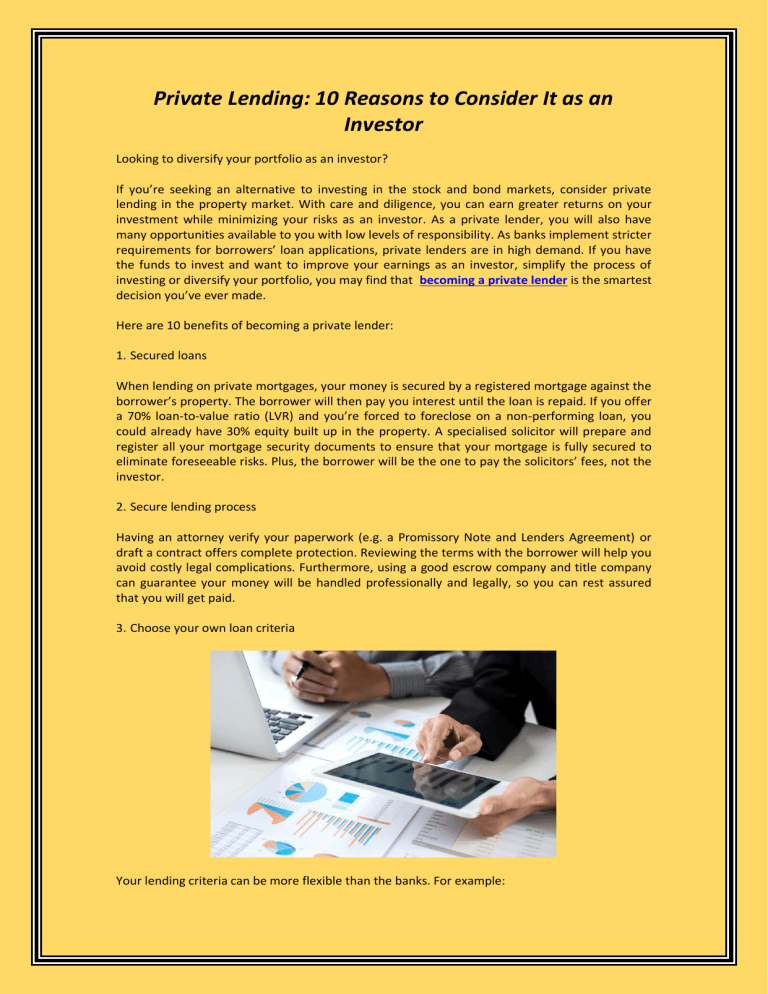 Private Lending: 10 Reasons to Consider It as an
Investor
Looking to diversify your portfolio as an investor?
If you're seeking an alternative to investing in the stock and bond markets, consider private
lending in the property market. With care and diligence, you can earn greater returns on your
investment while minimizing your risks as an investor. As a private lender, you will also have
many opportunities available to you with low levels of responsibility. As banks implement stricter
requirements for borrowers' loan applications, private lenders are in high demand. If you have
the funds to invest and want to improve your earnings as an investor, simplify the process of
investing or diversify your portfolio, you may find that becoming a private lender is the smartest
decision you've ever made.
Here are 10 benefits of becoming a private lender:
1. Secured loans
When lending on private mortgages, your money is secured by a registered mortgage against the
borrower's property. The borrower will then pay you interest until the loan is repaid. If you offer
a 70% loan-to-value ratio (LVR) and you're forced to foreclose on a non-performing loan, you
could already have 30% equity built up in the property. A specialised solicitor will prepare and
register all your mortgage security documents to ensure that your mortgage is fully secured to
eliminate foreseeable risks. Plus, the borrower will be the one to pay the solicitors' fees, not the
investor.
2. Secure lending process
Having an attorney verify your paperwork (e.g. a Promissory Note and Lenders Agreement) or
draft a contract offers complete protection. Reviewing the terms with the borrower will help you
avoid costly legal complications. Furthermore, using a good escrow company and title company
can guarantee your money will be handled professionally and legally, so you can rest assured
that you will get paid.
3. Choose your own loan criteria
Your lending criteria can be more flexible than the banks. For example:
You can choose to lend money for either residential or commercial property.
If you prefer to lend money for residential property, you can specify whether you want a
townhouse or a four-bedroom house, a single-family or a couple, or any other type of situation.
You can also choose whether the property is non-owner occupied, owner-occupied or a shortsale property.
You can choose how much money you want to loan, e.g. 60% or 80% LVR.
You can also determine the type of return you'd like on your money within a certain time period,
e.g. 6% return on investment (ROI) within 3 months or 8-20% ROI within a year.
You can get a broker's price opinion or a comparable appraisal by an appraiser so you don't get
sued and know that the investment you're going into is actually worth what the borrower says
it's worth.
You can ask the borrower to hand in a proven credit track record showing that they can make
payments and repay the loan.
To get the greatest returns, pick your criteria and stick to it.
4. Multiple ways of making money
As part of your loan criteria, you can also choose how much interest you'll charge the borrower
(e.g. 6-15%) and if it accrues monthly. Or you can charge points (which is the percentage charged
monthly and at closing), e.g. charging 2 points for a $100,000 property means you make $2000 a
month and when the loan closes.
5. Fixed yield returns
Investing in private money loans gives you fixed yield returns and pays off at maturity. For
example, if you loan $100,000 at 8% interest per annum and require only interest payments,
then you'll earn $8,000 a year. If the borrower doesn't default, the loan will be paid off at or
before it reaches maturity and you'll get back the original principal amount.
6. Short lending periods
With private money lending, you can recover your capital in a shorter period of time, which
means that you can better protect yourself against different types of risk. Most private loan
terms range from 9-12 months. Your loan criteria can also specify how many months you want
the loan term to last for, e.g. short-term (3-6 months) or long-term (6-12 months).
7. Diversify your money and lower your risk
You can work with other private lenders to diversify your money and lower your risk as an
investor. For example, you can invest in a pool that gathers funds from other lenders to create
one entity for loaning money to borrowers. Or you can diversify your money by using multiple
fractional loans with ten lenders, e.g. each lender lends $100,000 for a $1 million loan. The
pool/fractional loan manager will handle loan decisions, and your money is diversified across
different types of loans.
8. Earn higher returns with junior liens
A junior lien is a second mortgage. You can earn a higher rate of return by investing in a first
mortgage and then buying a second mortgage or other more junior liens. If you choose to go
down this path, another benefit is that there's less initial cash outlay.
9. Spend less time managing your portfolio
If you don't have enough time but you have enough money, you can work with a private lending
company with a good track record to manage your money. If they invest in real estate, they'll
know how to best manage your portfolio and could probably guarantee you a 6-8% ROI. Working
with a private lending company will also allow you to free up some of your time.
10. No costs or setup fees
You can apply to become a private lender at Archer Private, where we help facilitate lending
transactions between lenders and borrowers.
At Archer Private we offer Sophisticated, Wholesale and Institutional clients the opportunity to
use the Service of Archer Private to become Private Lenders and create income streams by
funding mortgage-backed loans.
Clearly, there are many benefits to becoming a private lender. Investing in private money loans
gives you better returns and is a secure process. It's also low risk if you do all the right things and
approach it the right way. As a sophisticated investor, it makes sense to become a private lender
in today's economy. Private money lending offers a safer way to generate income compared to
other forms of investment, an ideal solution if you're looking for an easy and cost-effective way
to increase your wealth.
If you need any further information or help with your investment portfolio, get in touch!