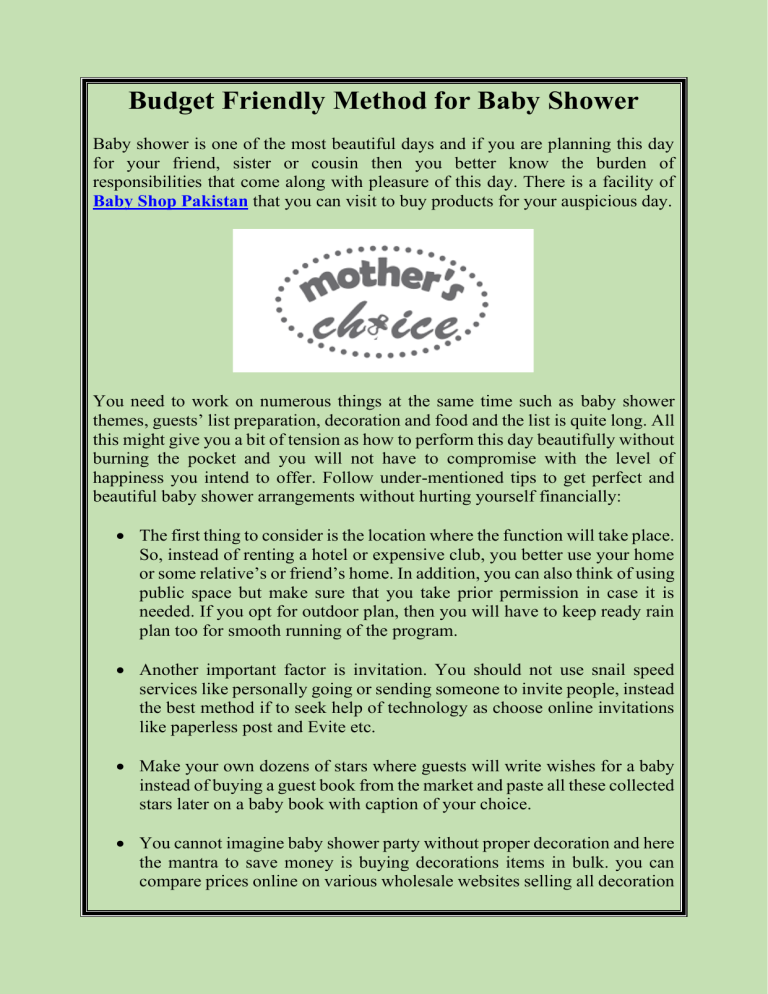 Budget Friendly Method for Baby Shower
Baby shower is one of the most beautiful days and if you are planning this day
for your friend, sister or cousin then you better know the burden of
responsibilities that come along with pleasure of this day. There is a facility of
Baby Shop Pakistan that you can visit to buy products for your auspicious day.
You need to work on numerous things at the same time such as baby shower
themes, guests' list preparation, decoration and food and the list is quite long. All
this might give you a bit of tension as how to perform this day beautifully without
burning the pocket and you will not have to compromise with the level of
happiness you intend to offer. Follow under-mentioned tips to get perfect and
beautiful baby shower arrangements without hurting yourself financially:
• The first thing to consider is the location where the function will take place.
So, instead of renting a hotel or expensive club, you better use your home
or some relative's or friend's home. In addition, you can also think of using
public space but make sure that you take prior permission in case it is
needed. If you opt for outdoor plan, then you will have to keep ready rain
plan too for smooth running of the program.
• Another important factor is invitation. You should not use snail speed
services like personally going or sending someone to invite people, instead
the best method if to seek help of technology as choose online invitations
like paperless post and Evite etc.
• Make your own dozens of stars where guests will write wishes for a baby
instead of buying a guest book from the market and paste all these collected
stars later on a baby book with caption of your choice.
• You cannot imagine baby shower party without proper decoration and here
the mantra to save money is buying decorations items in bulk. you can
compare prices online on various wholesale websites selling all decoration
items at one place. Buy pink, blue or monochromic colored balloons,
ribbons etc. For tableware too, compare the prices and then choose from
the best one.
• Go to your nearby market of farmers instead of going to florist to save
money when buying flowers. Keep the flower decoration amateur by
choosing flower of one color only and monochromatic vases of different
heights so that charm can add to the party. Here you also have an alternate
and that is using paper floral decoration!
• If you keep party at home then it eliminates your furniture rental also.
• If you are going for a baby shower then you should buy things like Baby
Rattles For Newborns, Baby Bath Towels and New Born Baby Dress.
• Instead of caterers, choose to cook on your own by making simple varieties
like cheese, finger sandwiches, and crackers etc.
• For cake and dessert, include relatives and ask who prepares best or moth
watering cake or dessert.
• You can avoid entertainment as it is not wedding.
In this way by following simple yet beautiful ways you can reduce the cost of
baby shower party very reasonable and enjoy it to the full.