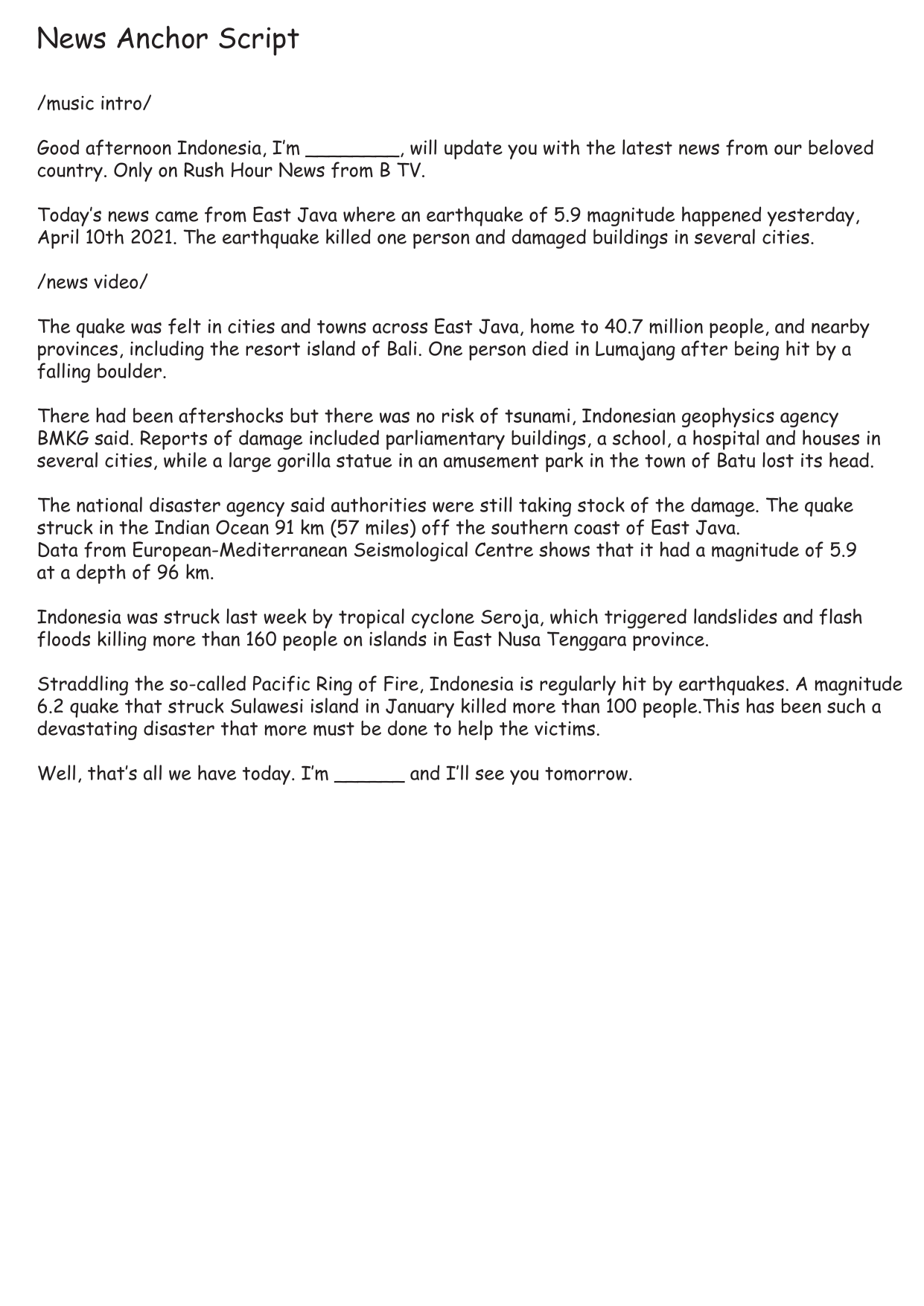 News Anchor Script
/music intro/
Good afternoon Indonesia, I'm ________, will update you with the latest news from our beloved
country. Only on Rush Hour News from B TV.
Today's news came from East Java where an earthquake of 5.9 magnitude happened yesterday,
April 10th 2021. The earthquake killed one person and damaged buildings in several cities.
/news video/
The quake was felt in cities and towns across East Java, home to 40.7 million people, and nearby
provinces, including the resort island of Bali. One person died in Lumajang after being hit by a
falling boulder.
There had been aftershocks but there was no risk of tsunami, Indonesian geophysics agency
BMKG said. Reports of damage included parliamentary buildings, a school, a hospital and houses in
several cities, while a large gorilla statue in an amusement park in the town of Batu lost its head.
The national disaster agency said authorities were still taking stock of the damage. The quake
struck in the Indian Ocean 91 km (57 miles) off the southern coast of East Java.
Data from European-Mediterranean Seismological Centre shows that it had a magnitude of 5.9
at a depth of 96 km.
Indonesia was struck last week by tropical cyclone Seroja, which triggered landslides and flash
floods killing more than 160 people on islands in East Nusa Tenggara province.
Straddling the so-called Pacific Ring of Fire, Indonesia is regularly hit by earthquakes. A magnitude
6.2 quake that struck Sulawesi island in January killed more than 100 people.This has been such a
devastating disaster that more must be done to help the victims.
Well, that's all we have today. I'm ______ and I'll see you tomorrow.
/musik pembuka/
Selamat sore Indonesia. Saya _______, akan memberikan kabar terbaru dari negeri tercinta kita.
Hanya di Rush Hour News dari B TV.
Berita hari ini datang dari Jawa Timur dimana gempa dengan kekuatan 5.9 terjadi kemarin, 10 April
2021. Gempa tersebut menewaskan satu orang dan menyebabkan kerusakan bangunan di beberapa
kota.
/video berita/
Gempa terasa di beberapa kota di Jawa Timur, tempat tinggal 40,7 juta penduduk, dan beberapa
provinsi sekitar, termasuk Pulau Bali. Satu orang tewas di Lumajang setelah tertimpa reruntuhan.
BMKG menuturkan bahwa tidak ada risiko tsunami dari gempa ini. Laporan kerusakan yang diterima
termasuk gedung parlemen, sekolah, rumah sakit dan rumah-rumah di beberapa kota. Sementara itu,
patung gorilla di taman hiburan di kota Batu kehilangan kepalanya.
Departemen Bencana Alam Nasional masih menghitung kerusakan akibat gempa ini. Gempa terjadi di
Samudera Hindia 91 km dari lepas pantai selatan Jawa Timur. Data dari European-Mediterranean
Seismological Centre menunjukkan bahwa gempa tersebut memiliki kekuatan 5.9 pada kedalaman
96 km.
Indonesia telah dilanda angin topan tropis Seroja yang menyebabkan longsor dan banjir bandang di
Nusa Tenggara Timur dan menewaskan lebih dari 160 korban.
Berada di jalur Pacific Ring of Fire, Indonesia memang sering dilanda gempa bumi. Gempa dengan
kekuatan 6,2 yang melanda Sulawesi pada bulan Januari lalu menewaskan lebih dari 100 korban.
Lebih banyak bantuan harus segera disalurkan kepada para korban dari seluruh bencana ini.
Sekian informasi yang dapat saya sampaikan. Saya ______, sampai jumpa esok hari.