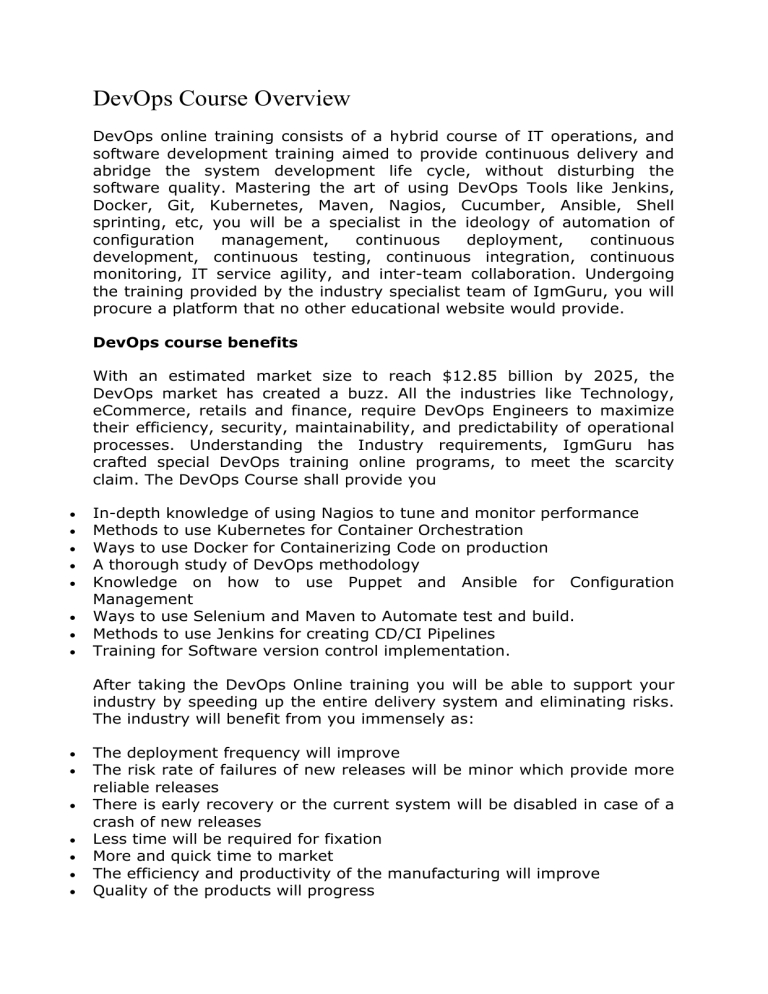 DevOps Course Overview
DevOps online training consists of a hybrid course of IT operations, and
software development training aimed to provide continuous delivery and
abridge the system development life cycle, without disturbing the
software quality. Mastering the art of using DevOps Tools like Jenkins,
Docker, Git, Kubernetes, Maven, Nagios, Cucumber, Ansible, Shell
sprinting, etc, you will be a specialist in the ideology of automation of
configuration
management,
continuous
deployment,
continuous
development, continuous testing, continuous integration, continuous
monitoring, IT service agility, and inter-team collaboration. Undergoing
the training provided by the industry specialist team of IgmGuru, you will
procure a platform that no other educational website would provide.
DevOps course benefits
With an estimated market size to reach $12.85 billion by 2025, the
DevOps market has created a buzz. All the industries like Technology,
eCommerce, retails and finance, require DevOps Engineers to maximize
their efficiency, security, maintainability, and predictability of operational
processes. Understanding the Industry requirements, IgmGuru has
crafted special DevOps training online programs, to meet the scarcity
claim. The DevOps Course shall provide you








In-depth knowledge of using Nagios to tune and monitor performance
Methods to use Kubernetes for Container Orchestration
Ways to use Docker for Containerizing Code on production
A thorough study of DevOps methodology
Knowledge on how to use Puppet and Ansible for Configuration
Management
Ways to use Selenium and Maven to Automate test and build.
Methods to use Jenkins for creating CD/CI Pipelines
Training for Software version control implementation.
After taking the DevOps Online training you will be able to support your
industry by speeding up the entire delivery system and eliminating risks.
The industry will benefit from you immensely as:







The deployment frequency will improve
The risk rate of failures of new releases will be minor which provide more
reliable releases
There is early recovery or the current system will be disabled in case of a
crash of new releases
Less time will be required for fixation
More and quick time to market
The efficiency and productivity of the manufacturing will improve
Quality of the products will progress


More customer satisfaction will be gained
The capability to make the exact product by early testing will be increased
The course will make you a successful DevOps engineer. It will also help
to boost your career and earn good money.
Who are eligible to take the Best DevOps Online course?
The DevOps training online implemented by IgmGurul is ideal for IT and
development managers, technical project managers, software developers,
architects, operations support, and deployment engineers.
Perquisites of the Best DevOps Training.
Technical background i.e, knowledge of Java fundamentals, Linux
fundamentals, and Web Development fundamentals is, essential for
students taking the online DevOps course.
DevOps Training Online Modules
Lesson 1 - What is DevOps? What are its components?
+
Lesson 2 - Managing Source Code and Automating Builds Using GIT
+
Lesson 3 - Automated Testing and Test-driven Development
+
Lesson 4 - Containerization Using Docker
+
Lesson 5 - Continuous Integration Using Jenkins and TeamCity
+
Lesson 6 - Configuration Management Using Puppet, Chef, Ansible, and Salt
+
Lesson 7 - Continuous Deployment with Jenkins
+
Lesson 8 - Automated and Continuous Monitoring Using Nagios
+
DevOps Training Key Features






Instructor Led Training : 35 Hrs
Experienced & Professional Trainers
Small Batches Upto 10 Participants
24 X 7 Lifetime Support & Access
1 On 1 Training Option Available
Flexible Schedule
DevOps Course Fees
Online DevOps Training Class Room
o
o
90 days of access to 12+ instructor-led online training classes
180 days of access to high-quality,self-paced learning content designed by experts


Show Price Enroll Now
100% MONEY BACK GUARANTEE ?
Batches start from 06 Feb 2021.
DevOps Certifications Exam
IgmGuru has designed its training environment with the help of
intellectual people all over the world. The specialized professors help to
generate proficient DevOps engineers by presenting on-field training,
assignments, well-equipped and scheduled conferencing classes, healthy
discussions, and finally, class tests, based on real-life projects. The
students through online training are prepared perfectly for the DevOps
Certifications provided, at the end of the course.
DevOps Online Training FAQ
Q : Who is a DevOps engineer?
Q : How can I take the DevOps training online?
Q : How do I get my DevOps course Certificate?
Q : How are the classes conducted and what if I miss my class?
Q : What are the features of DevOps training online for engineers?
Q : What is the DevOps training cost and how shall the payment be made?
Q : Who shall lead the DevOps training online class and how is their selection made?
Write a Review
Project Delivery Manager
Naval Joshi
I attended this course and I found it very valuable and interactive. Thanks to IgmGuru for this
course which covers the topics from basic and good for everyone who even doesn't have
basic knowledge of DevOps. The trainer was very well organized on the topics he was
covering and was clarifying all doubts during the sessions raised by participants. Another
good part of the training was more focus on hands-on which I feel very much required to
understand how in real DevOps works and how the industry is looking forward to
implementing the DevOps best practices. Overall, I really like the way entire training was
conducted, course materials, timeline and logistics provided by IgmGuru which really gives
me a feeler that I was attending a classroom session instead of an online. I would recommend
everyone who is DevOps enthusiastic to take this course to understand the DevOps world.