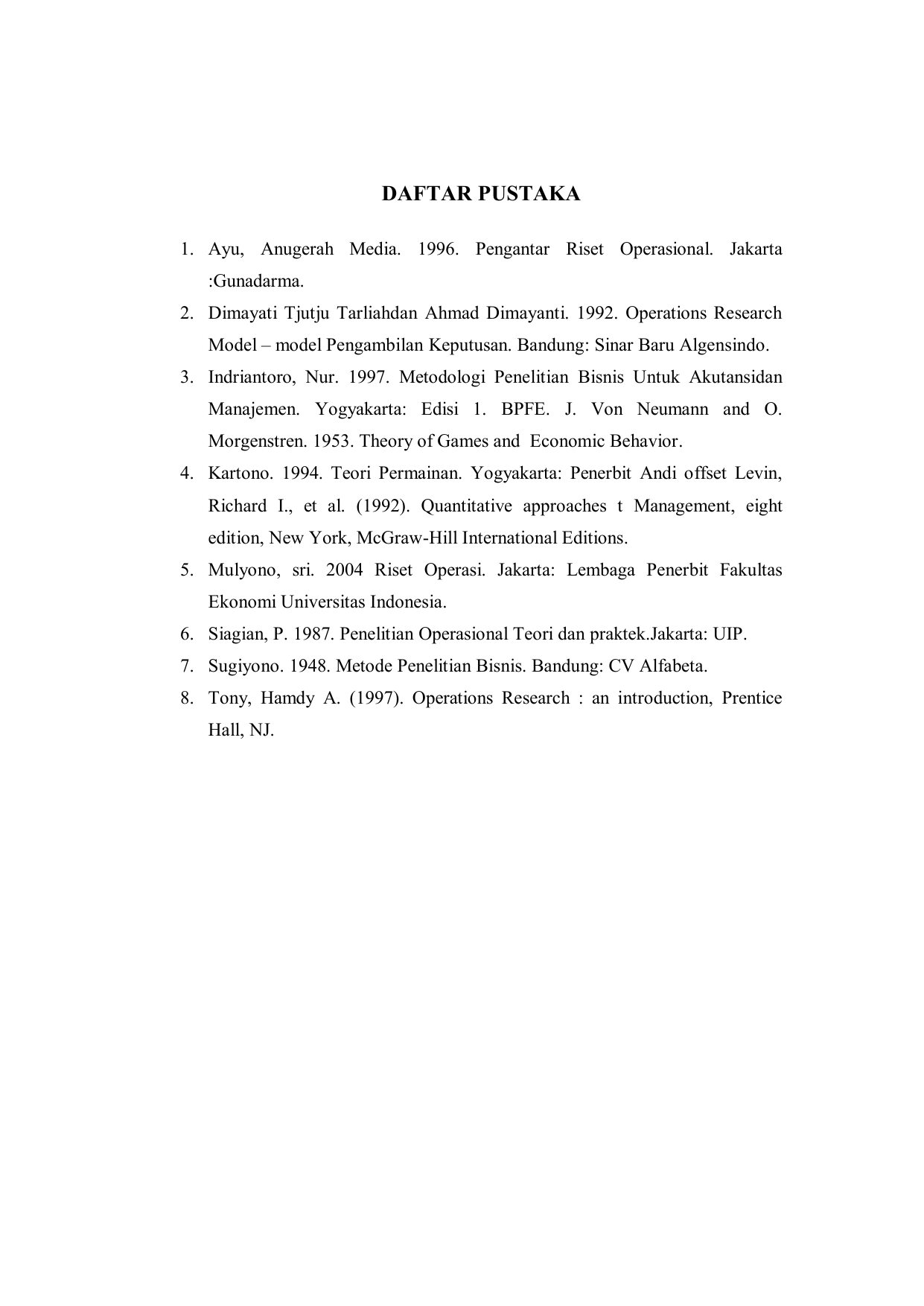 DAFTAR PUSTAKA
1. Ayu, Anugerah Media. 1996. Pengantar Riset Operasional. Jakarta
:Gunadarma.
2. Dimayati Tjutju Tarliahdan Ahmad Dimayanti. 1992. Operations Research
Model – model Pengambilan Keputusan. Bandung: Sinar Baru Algensindo.
3. Indriantoro, Nur. 1997. Metodologi Penelitian Bisnis Untuk Akutansidan
Manajemen. Yogyakarta: Edisi 1. BPFE. J. Von Neumann and O.
Morgenstren. 1953. Theory of Games and Economic Behavior.
4. Kartono. 1994. Teori Permainan. Yogyakarta: Penerbit Andi offset Levin,
Richard I., et al. (1992). Quantitative approaches t Management, eight
edition, New York, McGraw-Hill International Editions.
5. Mulyono, sri. 2004 Riset Operasi. Jakarta: Lembaga Penerbit Fakultas
Ekonomi Universitas Indonesia.
6. Siagian, P. 1987. Penelitian Operasional Teori dan praktek.Jakarta: UIP.
7. Sugiyono. 1948. Metode Penelitian Bisnis. Bandung: CV Alfabeta.
8. Tony, Hamdy A. (1997). Operations Research : an introduction, Prentice
Hall, NJ.