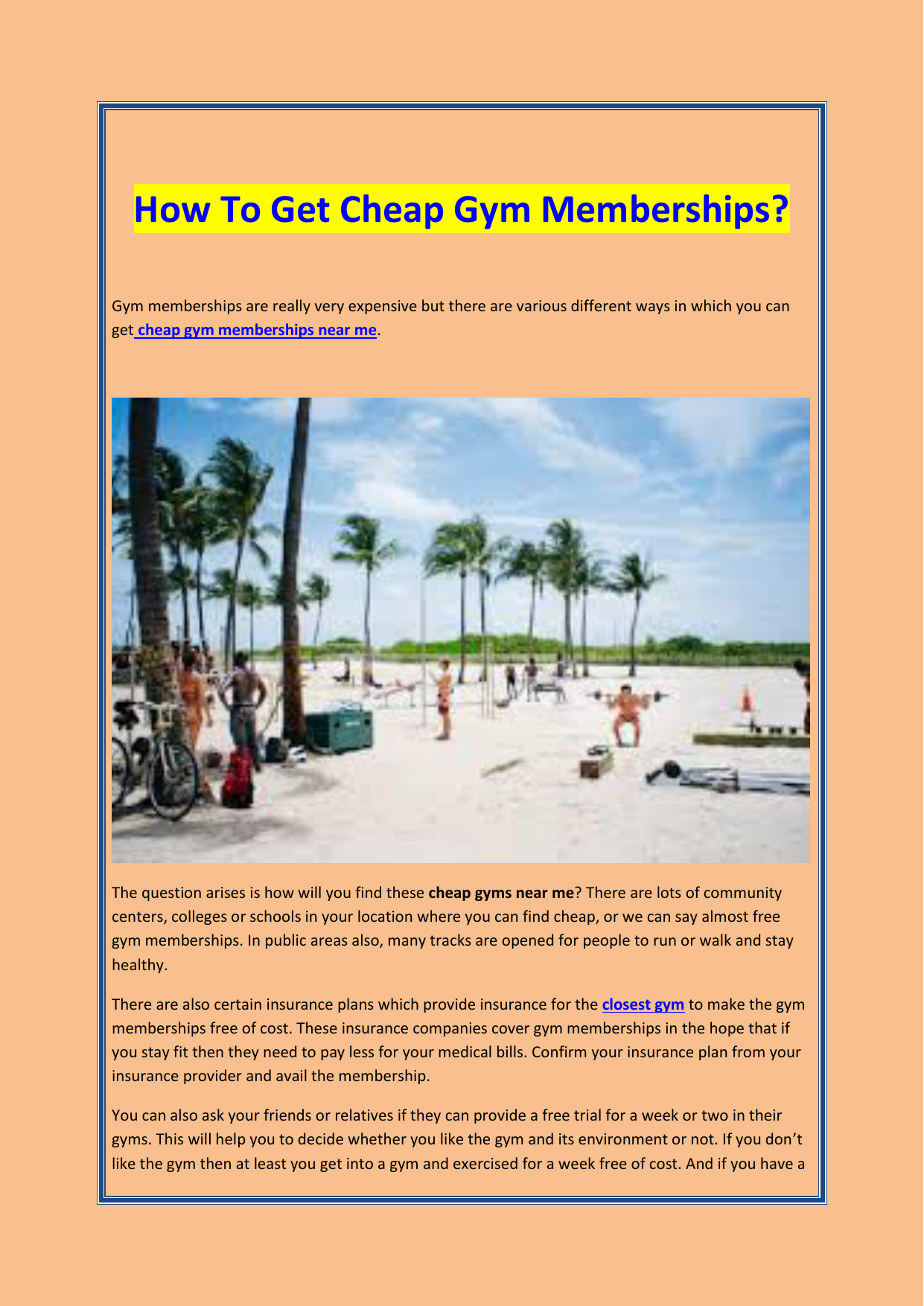 How To Get Cheap Gym Memberships?
Gym memberships are really very expensive but there are various different ways in which you can
get cheap gym memberships near me.
The question arises is how will you find these cheap gyms near me? There are lots of community
centers, colleges or schools in your location where you can find cheap, or we can say almost free
gym memberships. In public areas also, many tracks are opened for people to run or walk and stay
healthy.
There are also certain insurance plans which provide insurance for the closest gym to make the gym
memberships free of cost. These insurance companies cover gym memberships in the hope that if
you stay fit then they need to pay less for your medical bills. Confirm your insurance plan from your
insurance provider and avail the membership.
You can also ask your friends or relatives if they can provide a free trial for a week or two in their
gyms. This will help you to decide whether you like the gym and its environment or not. If you don't
like the gym then at least you get into a gym and exercised for a week free of cost. And if you have a
huge number of friends and relatives in the same city then you will get a lot of free trials which will
help you to workout free of cost for a month or two.
Before signing any gym, check for the discounts offered by the various local gyms. There are certain
gyms that have partnerships with some colleges and companies and offer a good discount to the
employees and students of those companies and colleges. Some gyms also offer discounts to
students with I.D. to help them stay healthy.
Another way to get cheaper rates is to bargain or negotiate for prices. After getting the price quote
to tell the gym that you liked the gym and want to take a membership. And also tell them that you
are getting a lower price in another gym. Most of the time they will provide you a cheaper price to
compete with the other gym but in case if they do not offer then go to another gym and try the
same procedure.
The best time to get the cheap gym memberships is during the winter season. During winter most
people skip the gym, and some of the people are busy on holidays. But gyms need their business to
be continued because of this they provide the memberships at lower rates.
Many gyms provide free passes to the members before providing paid memberships so that people
can test the facilities, equipment, amenities and other features of the gym.
If you already own membership then take most out of it and save your money. If you stay healthy
with gym then you will say a good amount of money in medical bills.
Sweat 440 is one of the best gyms in Miami Beach providing very cheap and affordable gym
memberships. To know more about our membership plans, reach us directly through our official
website sweat440.com.