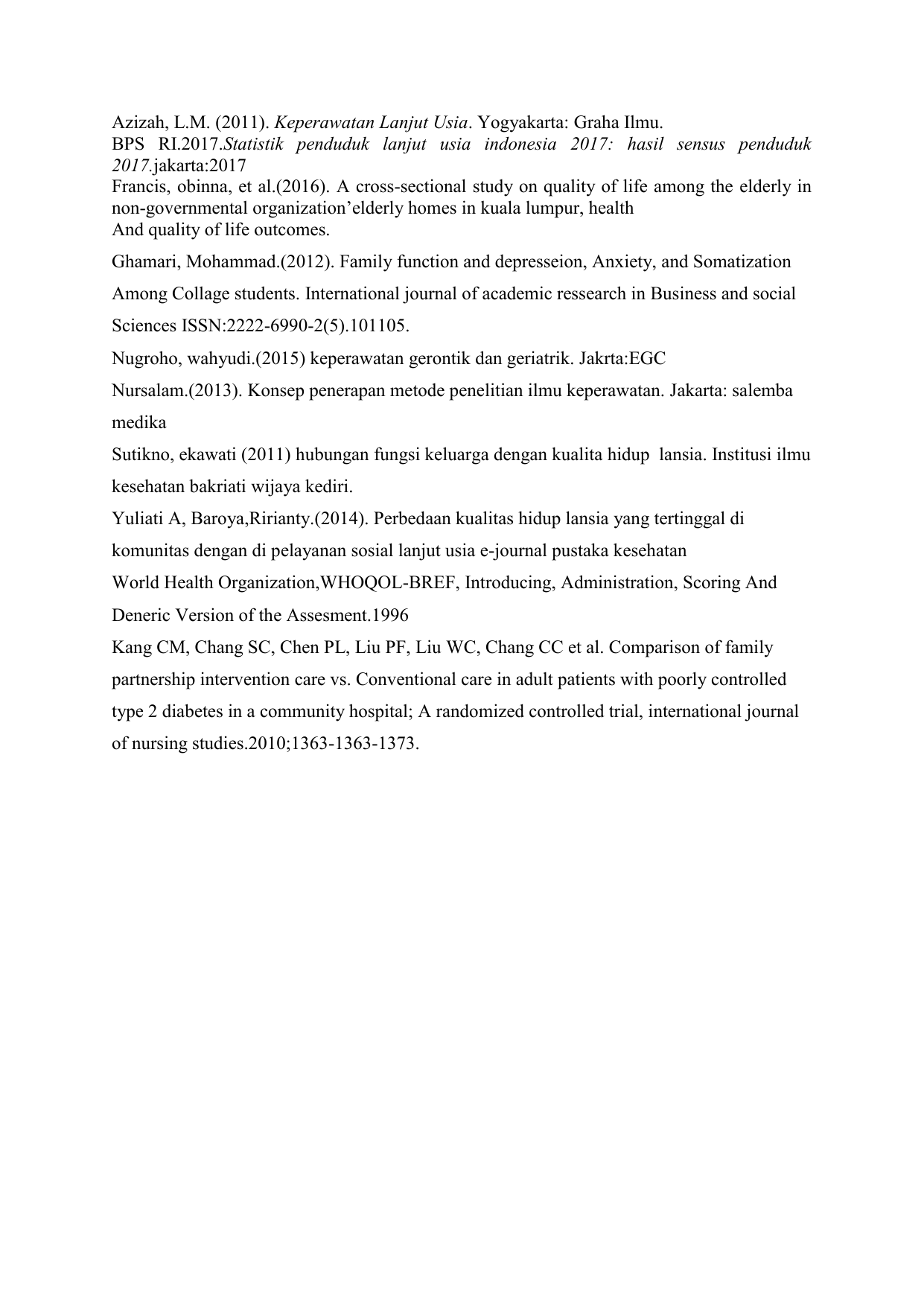 Azizah, L.M. (2011). Keperawatan Lanjut Usia. Yogyakarta: Graha Ilmu.
BPS RI.2017.Statistik penduduk lanjut usia indonesia 2017: hasil sensus penduduk
2017.jakarta:2017
Francis, obinna, et al.(2016). A cross-sectional study on quality of life among the elderly in
non-governmental organization'elderly homes in kuala lumpur, health
And quality of life outcomes.
Ghamari, Mohammad.(2012). Family function and depresseion, Anxiety, and Somatization
Among Collage students. International journal of academic ressearch in Business and social
Sciences ISSN:2222-6990-2(5).101105.
Nugroho, wahyudi.(2015) keperawatan gerontik dan geriatrik. Jakrta:EGC
Nursalam.(2013). Konsep penerapan metode penelitian ilmu keperawatan. Jakarta: salemba
medika
Sutikno, ekawati (2011) hubungan fungsi keluarga dengan kualita hidup lansia. Institusi ilmu
kesehatan bakriati wijaya kediri.
Yuliati A, Baroya,Ririanty.(2014). Perbedaan kualitas hidup lansia yang tertinggal di
komunitas dengan di pelayanan sosial lanjut usia e-journal pustaka kesehatan
World Health Organization,WHOQOL-BREF, Introducing, Administration, Scoring And
Deneric Version of the Assesment.1996
Kang CM, Chang SC, Chen PL, Liu PF, Liu WC, Chang CC et al. Comparison of family
partnership intervention care vs. Conventional care in adult patients with poorly controlled
type 2 diabetes in a community hospital; A randomized controlled trial, international journal
of nursing studies.2010;1363-1363-1373.