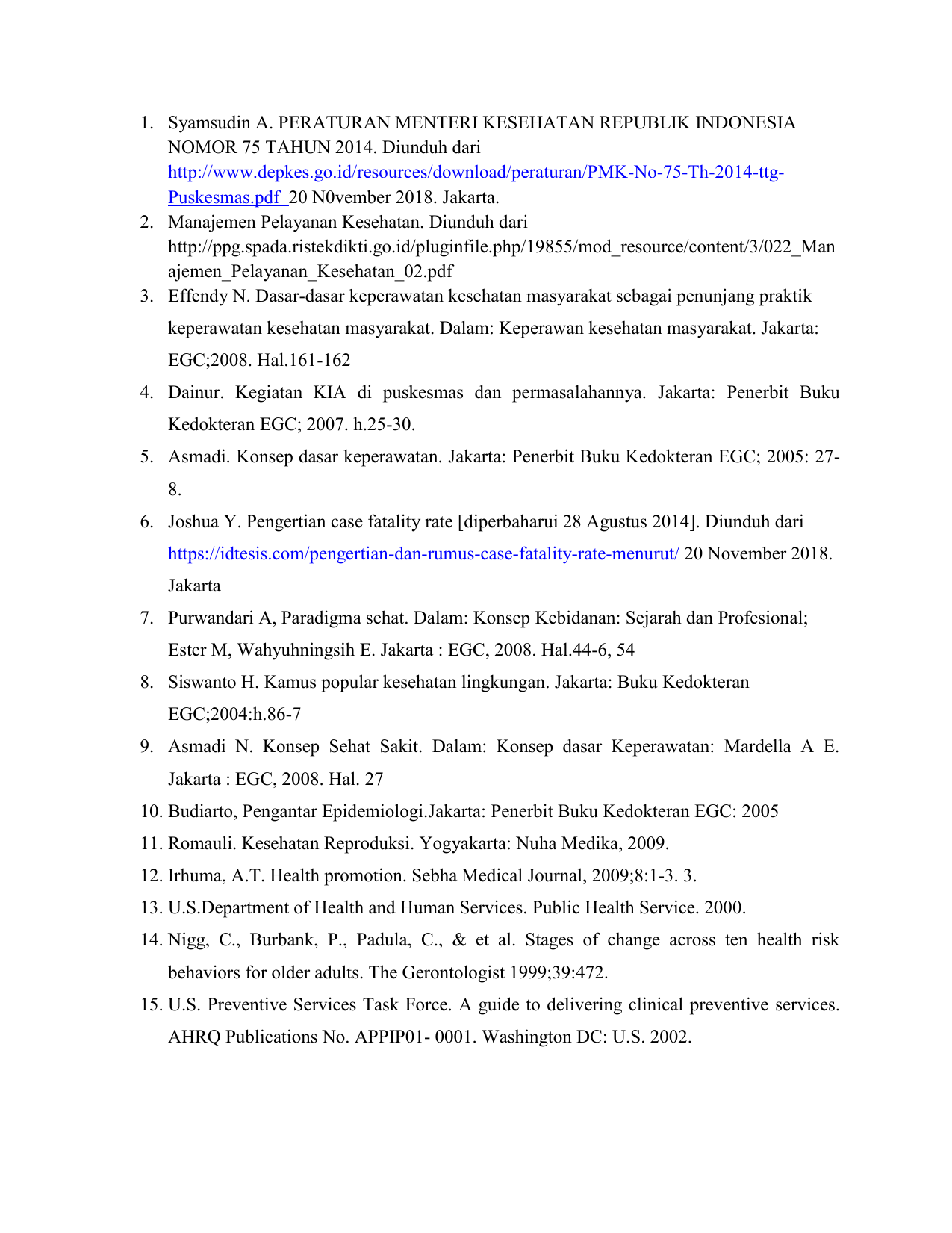 1. Syamsudin A. PERATURAN MENTERI KESEHATAN REPUBLIK INDONESIA
NOMOR 75 TAHUN 2014. Diunduh dari
http://www.depkes.go.id/resources/download/peraturan/PMK-No-75-Th-2014-ttgPuskesmas.pdf 20 N0vember 2018. Jakarta.
2. Manajemen Pelayanan Kesehatan. Diunduh dari
http://ppg.spada.ristekdikti.go.id/pluginfile.php/19855/mod_resource/content/3/022_Man
ajemen_Pelayanan_Kesehatan_02.pdf
3. Effendy N. Dasar-dasar keperawatan kesehatan masyarakat sebagai penunjang praktik
keperawatan kesehatan masyarakat. Dalam: Keperawan kesehatan masyarakat. Jakarta:
EGC;2008. Hal.161-162
4. Dainur. Kegiatan KIA di puskesmas dan permasalahannya. Jakarta: Penerbit Buku
Kedokteran EGC; 2007. h.25-30.
5. Asmadi. Konsep dasar keperawatan. Jakarta: Penerbit Buku Kedokteran EGC; 2005: 278.
6. Joshua Y. Pengertian case fatality rate [diperbaharui 28 Agustus 2014]. Diunduh dari
https://idtesis.com/pengertian-dan-rumus-case-fatality-rate-menurut/ 20 November 2018.
Jakarta
7. Purwandari A, Paradigma sehat. Dalam: Konsep Kebidanan: Sejarah dan Profesional;
Ester M, Wahyuhningsih E. Jakarta : EGC, 2008. Hal.44-6, 54
8. Siswanto H. Kamus popular kesehatan lingkungan. Jakarta: Buku Kedokteran
EGC;2004:h.86-7
9. Asmadi N. Konsep Sehat Sakit. Dalam: Konsep dasar Keperawatan: Mardella A E.
Jakarta : EGC, 2008. Hal. 27
10. Budiarto, Pengantar Epidemiologi.Jakarta: Penerbit Buku Kedokteran EGC: 2005
11. Romauli. Kesehatan Reproduksi. Yogyakarta: Nuha Medika, 2009.
12. Irhuma, A.T. Health promotion. Sebha Medical Journal, 2009;8:1-3. 3.
13. U.S.Department of Health and Human Services. Public Health Service. 2000.
14. Nigg, C., Burbank, P., Padula, C., & et al. Stages of change across ten health risk
behaviors for older adults. The Gerontologist 1999;39:472.
15. U.S. Preventive Services Task Force. A guide to delivering clinical preventive services.
AHRQ Publications No. APPIP01- 0001. Washington DC: U.S. 2002.