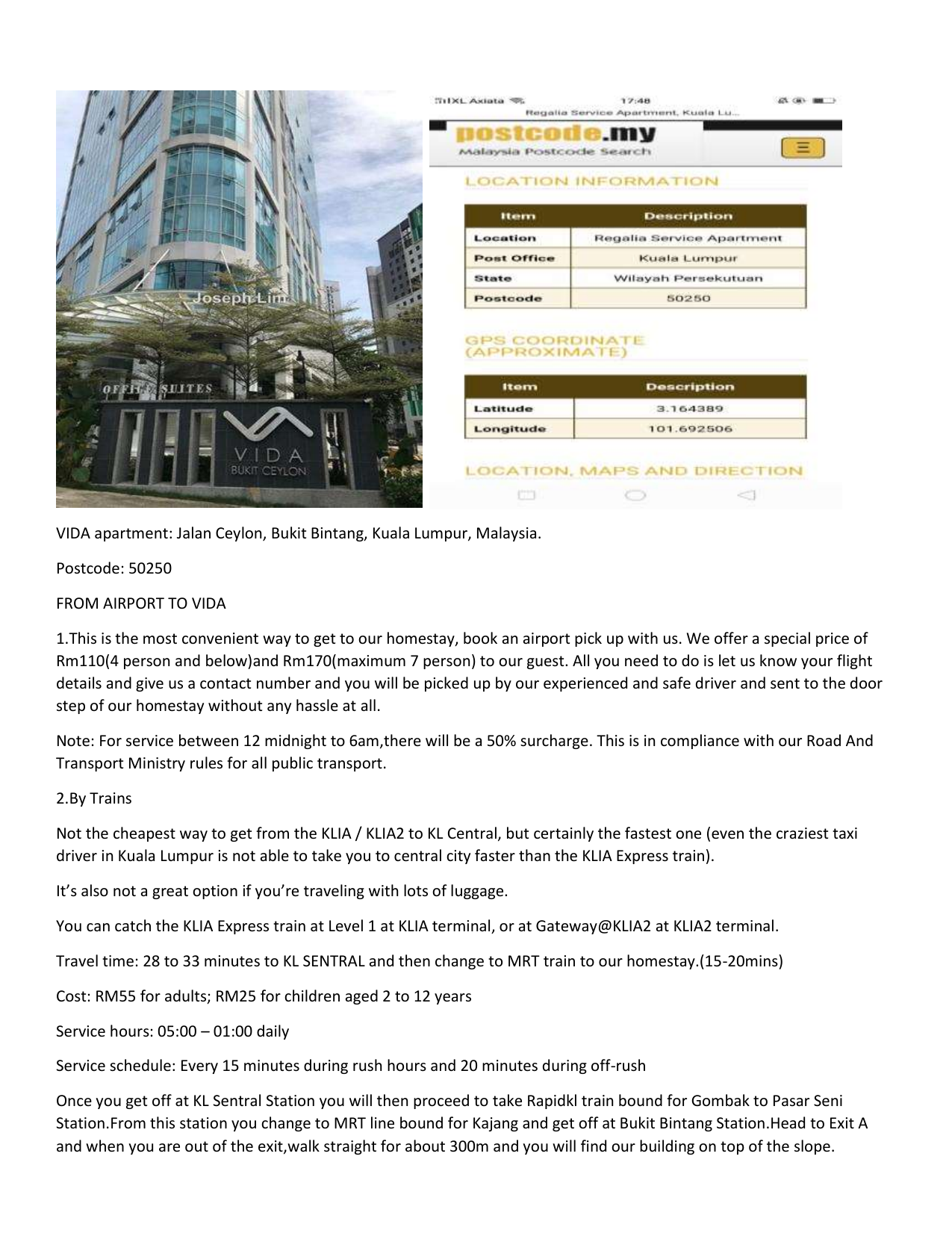 VIDA apartment: Jalan Ceylon, Bukit Bintang, Kuala Lumpur, Malaysia.
Postcode: 50250
FROM AIRPORT TO VIDA
1.This is the most convenient way to get to our homestay, book an airport pick up with us. We offer a special price of
Rm110(4 person and below)and Rm170(maximum 7 person) to our guest. All you need to do is let us know your flight
details and give us a contact number and you will be picked up by our experienced and safe driver and sent to the door
step of our homestay without any hassle at all.
Note: For service between 12 midnight to 6am,there will be a 50% surcharge. This is in compliance with our Road And
Transport Ministry rules for all public transport.
2.By Trains
Not the cheapest way to get from the KLIA / KLIA2 to KL Central, but certainly the fastest one (even the craziest taxi
driver in Kuala Lumpur is not able to take you to central city faster than the KLIA Express train).
It's also not a great option if you're traveling with lots of luggage.
You can catch the KLIA Express train at Level 1 at KLIA terminal, or at [email protected] at KLIA2 terminal.
Travel time: 28 to 33 minutes to KL SENTRAL and then change to MRT train to our homestay.(15-20mins)
Cost: RM55 for adults; RM25 for children aged 2 to 12 years
Service hours: 05:00 – 01:00 daily
Service schedule: Every 15 minutes during rush hours and 20 minutes during off-rush
Once you get off at KL Sentral Station you will then proceed to take Rapidkl train bound for Gombak to Pasar Seni
Station.From this station you change to MRT line bound for Kajang and get off at Bukit Bintang Station.Head to Exit A
and when you are out of the exit,walk straight for about 300m and you will find our building on top of the slope.
3.By taxi to our apartment.
When we say the words 'limo' and 'limousine', don't picture a luxury sedan or saloon car. In Kuala Lumpur, limousines
are ordinary cars, they simply use a more attractive word for it.
Airport Limo and Taxi service is a pretty comfortable way to get to KL Sentral, but the most expensive one.
Most cars provided by Airport Limo and Taxi service can seat 2 people with large suitcases and bags or 3 people with
lighter luggage. But there are also minivans that can carry 5 people with heavy travel bags or 6 people with little
luggage.
Remember that you can find taxis only INSIDE the airport. Outside the airport, there are regular taxi driver who will try
to trick you out of your money.
Airport Limo and Taxi service operates through a coupon system and tickets can be purchased at the Airport Limo
counter in the Arrival Hall.
Travel time: 40 to 50 minutes
Cost:RmRm110 budget taxi; and RM160 for a premier limo.
Service hours: 24 hours
Notes
–If you use taxi services between 00:01 and 05:59 there will be a 50% surcharge (for example, if at 02:30 the meter
shows RM18, you'll have to pay RM18+9).
GrabCar which is the equivalent of Uber is available in Kuala Lumpur, and most of the time are cheaper than the regular
taxi services in the city.The cost of Grab Car to the city is around Rm90.You will have to hail one after you touched down
and then see if there are any available.Usually these are very small cars.
4.By KL Airport Shuttle bus
Taking a bus shuttle from the airport is the cheapest and most convenient way to get to central Kuala Lumpur it will be
the slowest way of all mode of transport to get into the city.
It's also the best way to reach KL Sentral if you're traveling with luggage as there are no charges for your belongings.
The journey from the airport to central city on a shuttle is enjoyable and relaxing, because you'll be sitting in a bus
equipped with air conditioning and comfortable padded.
You can purchase the tickets at Airport Coach counters at the KLIA (Ground Floor, Block C STCP KLIA).
If you are going to land at the KLIA2, you can take the shuttle service provided by SkyBus.
Service hours: 05:30 – 00:30 daily (Airport Coach); 05:00 – 02:45 daily (SkyBus)
Service schedule: Every 30 minutes (Airport Coach); every hour (SkyBus)
Note: Get on the bus at least 10 minutes before its departure to avoid problems.
Once you reach KL Sentral,you will then take the MRT as stated above.