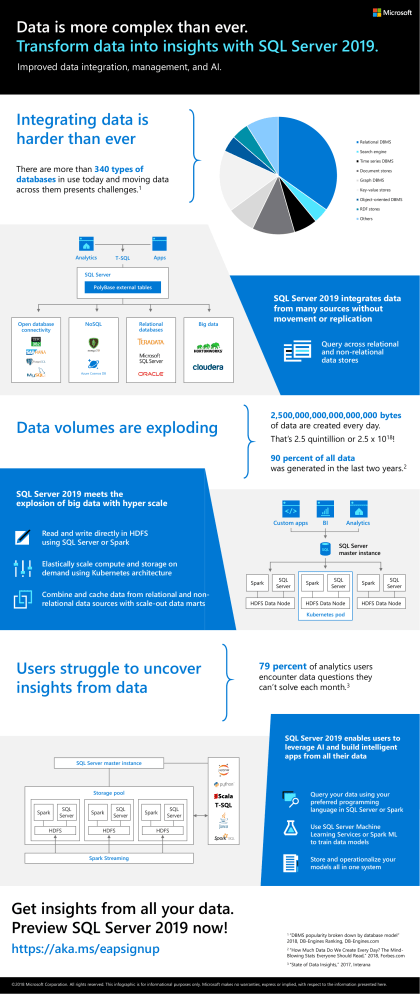 Data is more complex than ever.
Transform data into insights with SQL Server 2019.
Improved data integration, management, and AI.
Integrating data is
harder than ever
Relational DBMS
Search engine
Time series DBMS
There are more than 340 types of
databases in use today and moving data
across them presents challenges.1
Document stores
Graph DBMS
Key-value stores
Object-oriented DBMS
RDF stores
Others
Analytics
Apps
T-SQL
SQL Server
PolyBase external tables
Open database
connectivity
Relational
databases
NoSQL
SQL Server 2019 integrates data
from many sources without
movement or replication
Big data
Query across relational
and non-relational
data stores
Azure Cosmos DB
2,500,000,000,000,000,000 bytes
of data are created every day.
Data volumes are exploding
That's 2.5 quintillion or 2.5 x 1018!
90 percent of all data
was generated in the last two years.2
SQL Server 2019 meets the
explosion of big data with hyper scale
Custom apps
BI
Read and write directly in HDFS
using SQL Server or Spark
SQL
Elastically scale compute and storage on
demand using Kubernetes architecture
Spark
Combine and cache data from relational and nonrelational data sources with scale-out data marts
SQL
Server
Spark
HDFS Data Node
Analytics
SQL Server
master instance
SQL
Server
HDFS Data Node
Spark
SQL
Server
HDFS Data Node
Kubernetes pod
Users struggle to uncover
insights from data
79 percent of analytics users
encounter data questions they
can't solve each month.3
SQL Server 2019 enables users to
leverage AI and build intelligent
apps from all their data
SQL Server master instance
Storage pool
Spark
SQL
Server
HDFS
Spark
SQL
Server
HDFS
Spark
Query your data using your
preferred programming
language in SQL Server or Spark
SQL
Server
Use SQL Server Machine
Learning Services or Spark ML
to train data models
HDFS
Spark Streaming
Get insights from all your data.
Preview SQL Server 2019 now!
https://aka.ms/eapsignup
Store and operationalize your
models all in one system
1 "DBMS
popularity broken down by database model"
2018, DB-Engines Ranking, DB-Engines.com
2 "How
Much Data Do We Create Every Day? The MindBlowing Stats Everyone Should Read," 2018, Forbes.com
3 "State
of Data Insights," 2017, Interana
©2018 Microsoft Corporation. All rights reserved. This infographic is for informational purposes only. Microsoft makes no warranties, express or implied, with respect to the information presented here.