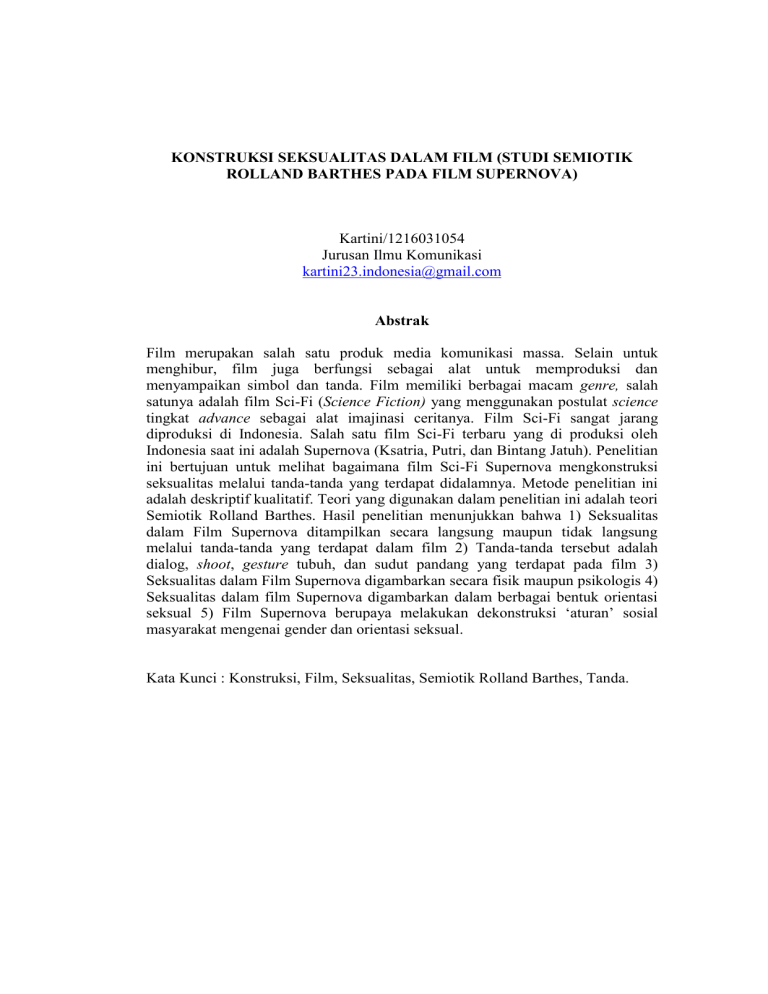 KONSTRUKSI SEKSUALITAS DALAM FILM (STUDI SEMIOTIK
ROLLAND BARTHES PADA FILM SUPERNOVA)
Kartini/1216031054
Jurusan Ilmu Komunikasi
[email protected]
Abstrak
Film merupakan salah satu produk media komunikasi massa. Selain untuk
menghibur, film juga berfungsi sebagai alat untuk memproduksi dan
menyampaikan simbol dan tanda. Film memiliki berbagai macam genre, salah
satunya adalah film Sci-Fi (Science Fiction) yang menggunakan postulat science
tingkat advance sebagai alat imajinasi ceritanya. Film Sci-Fi sangat jarang
diproduksi di Indonesia. Salah satu film Sci-Fi terbaru yang di produksi oleh
Indonesia saat ini adalah Supernova (Ksatria, Putri, dan Bintang Jatuh). Penelitian
ini bertujuan untuk melihat bagaimana film Sci-Fi Supernova mengkonstruksi
seksualitas melalui tanda-tanda yang terdapat didalamnya. Metode penelitian ini
adalah deskriptif kualitatif. Teori yang digunakan dalam penelitian ini adalah teori
Semiotik Rolland Barthes. Hasil penelitian menunjukkan bahwa 1) Seksualitas
dalam Film Supernova ditampilkan secara langsung maupun tidak langsung
melalui tanda-tanda yang terdapat dalam film 2) Tanda-tanda tersebut adalah
dialog, shoot, gesture tubuh, dan sudut pandang yang terdapat pada film 3)
Seksualitas dalam Film Supernova digambarkan secara fisik maupun psikologis 4)
Seksualitas dalam film Supernova digambarkan dalam berbagai bentuk orientasi
seksual 5) Film Supernova berupaya melakukan dekonstruksi 'aturan' sosial
masyarakat mengenai gender dan orientasi seksual.
Kata Kunci : Konstruksi, Film, Seksualitas, Semiotik Rolland Barthes, Tanda.
CONSTRUCTION OF SEXUALITY IN FILMS (STUDY OF ROLLAND
BARTHES SEMIOTICS IN SUPERNOVA FILM)
Kartini/1216031054
Jurusan Ilmu Komunikasi
[email protected]
Abstract
Film is one of mass communication products.As one of media product, besides for
entertainment purpose, films also have functions as media for producing and
conveying symbols and marks. Films have various genres, for example is Sci-fi
(science fiction) movie which uses scientific postulates in advance level as media
to imagine the story. Sci-fi movies are still rarely produced in Indonesia. One of
the latest Indonesian Sci-fi film is Supernova (Knight, Princess and The Falling
Star). This research aims to see how Supernova film constructs sexuality using
symbols inside it. The reseach method used here is qualitative-descriptive. The
theory used in this research is Roland Barthes' Semiotics Theory. The result
shows that 1) Sexuality in Supernova film is shown whether directly or not
through symbols in the film 2) those symbols are shown in dialogues, shoots,
gestures, and viewpoints in the film 3) sexuality in Supernova film is shown
physically and psychologically 4) sexuality in Supernova film is shown in various
sexual orientations 5) Supernova film attempts to deconstruct social 'rule'
in society about gender and sexual orientations.
Keywords: construction ,film, sexuality, Roland Barthes' semiotics, symbol.