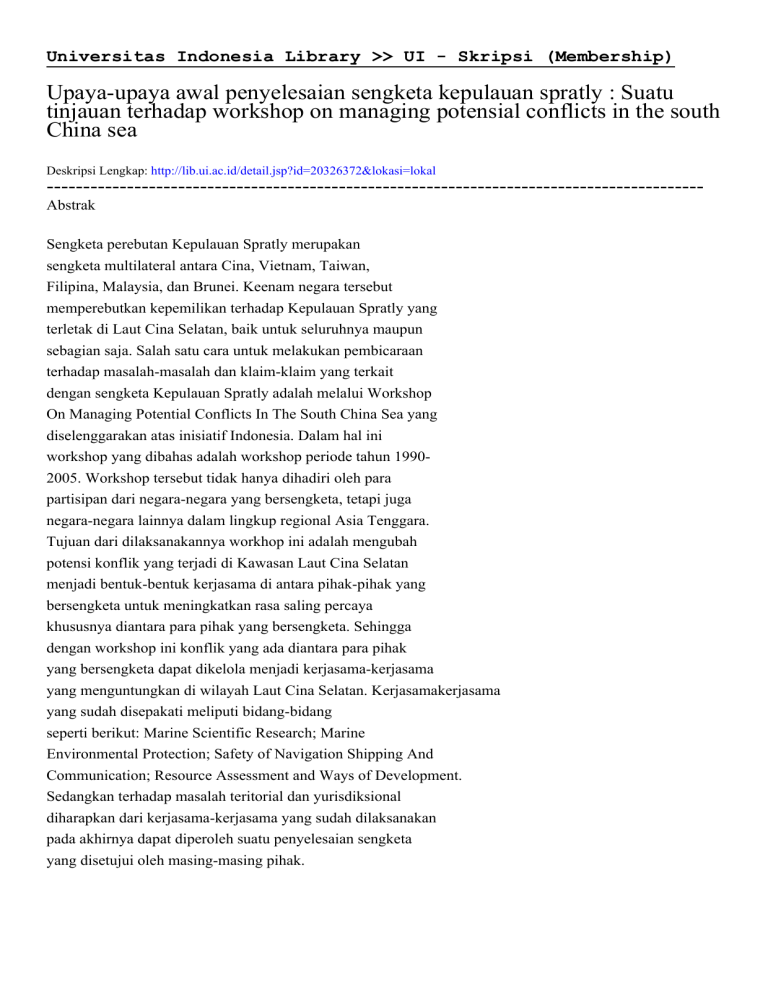 Universitas Indonesia Library >> UI - Skripsi (Membership)
Upaya-upaya awal penyelesaian sengketa kepulauan spratly : Suatu
tinjauan terhadap workshop on managing potensial conflicts in the south
China sea
Deskripsi Lengkap: http://lib.ui.ac.id/detail.jsp?id=20326372&lokasi=lokal
-----------------------------------------------------------------------------------------Abstrak
Sengketa perebutan Kepulauan Spratly merupakan
sengketa multilateral antara Cina, Vietnam, Taiwan,
Filipina, Malaysia, dan Brunei. Keenam negara tersebut
memperebutkan kepemilikan terhadap Kepulauan Spratly yang
terletak di Laut Cina Selatan, baik untuk seluruhnya maupun
sebagian saja. Salah satu cara untuk melakukan pembicaraan
terhadap masalah-masalah dan klaim-klaim yang terkait
dengan sengketa Kepulauan Spratly adalah melalui Workshop
On Managing Potential Conflicts In The South China Sea yang
diselenggarakan atas inisiatif Indonesia. Dalam hal ini
workshop yang dibahas adalah workshop periode tahun 19902005. Workshop tersebut tidak hanya dihadiri oleh para
partisipan dari negara-negara yang bersengketa, tetapi juga
negara-negara lainnya dalam lingkup regional Asia Tenggara.
Tujuan dari dilaksanakannya workhop ini adalah mengubah
potensi konflik yang terjadi di Kawasan Laut Cina Selatan
menjadi bentuk-bentuk kerjasama di antara pihak-pihak yang
bersengketa untuk meningkatkan rasa saling percaya
khususnya diantara para pihak yang bersengketa. Sehingga
dengan workshop ini konflik yang ada diantara para pihak
yang bersengketa dapat dikelola menjadi kerjasama-kerjasama
yang menguntungkan di wilayah Laut Cina Selatan. Kerjasamakerjasama
yang sudah disepakati meliputi bidang-bidang
seperti berikut: Marine Scientific Research; Marine
Environmental Protection; Safety of Navigation Shipping And
Communication; Resource Assessment and Ways of Development.
Sedangkan terhadap masalah teritorial dan yurisdiksional
diharapkan dari kerjasama-kerjasama yang sudah dilaksanakan
pada akhirnya dapat diperoleh suatu penyelesaian sengketa
yang disetujui oleh masing-masing pihak.