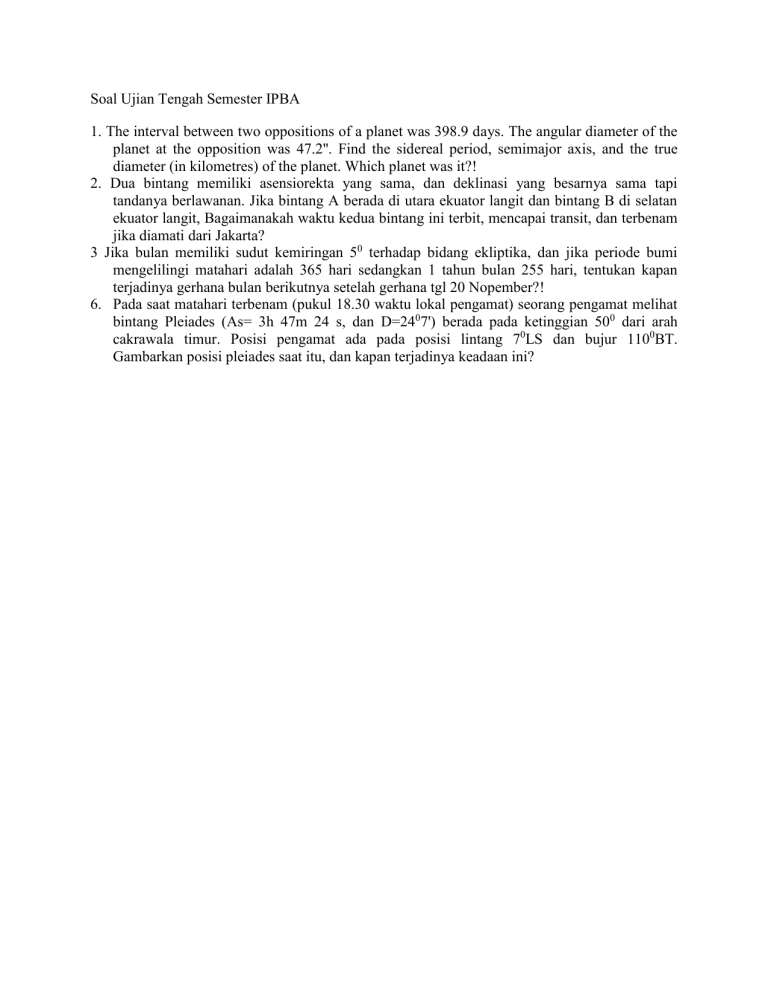 Soal Ujian Tengah Semester IPBA
1. The interval between two oppositions of a planet was 398.9 days. The angular diameter of the
planet at the opposition was 47.2''. Find the sidereal period, semimajor axis, and the true
diameter (in kilometres) of the planet. Which planet was it?!
2. Dua bintang memiliki asensiorekta yang sama, dan deklinasi yang besarnya sama tapi
tandanya berlawanan. Jika bintang A berada di utara ekuator langit dan bintang B di selatan
ekuator langit, Bagaimanakah waktu kedua bintang ini terbit, mencapai transit, dan terbenam
jika diamati dari Jakarta?
3 Jika bulan memiliki sudut kemiringan 50 terhadap bidang ekliptika, dan jika periode bumi
mengelilingi matahari adalah 365 hari sedangkan 1 tahun bulan 255 hari, tentukan kapan
terjadinya gerhana bulan berikutnya setelah gerhana tgl 20 Nopember?!
6. Pada saat matahari terbenam (pukul 18.30 waktu lokal pengamat) seorang pengamat melihat
bintang Pleiades (As= 3h 47m 24 s, dan D=2407') berada pada ketinggian 500 dari arah
cakrawala timur. Posisi pengamat ada pada posisi lintang 70LS dan bujur 1100BT.
Gambarkan posisi pleiades saat itu, dan kapan terjadinya keadaan ini?