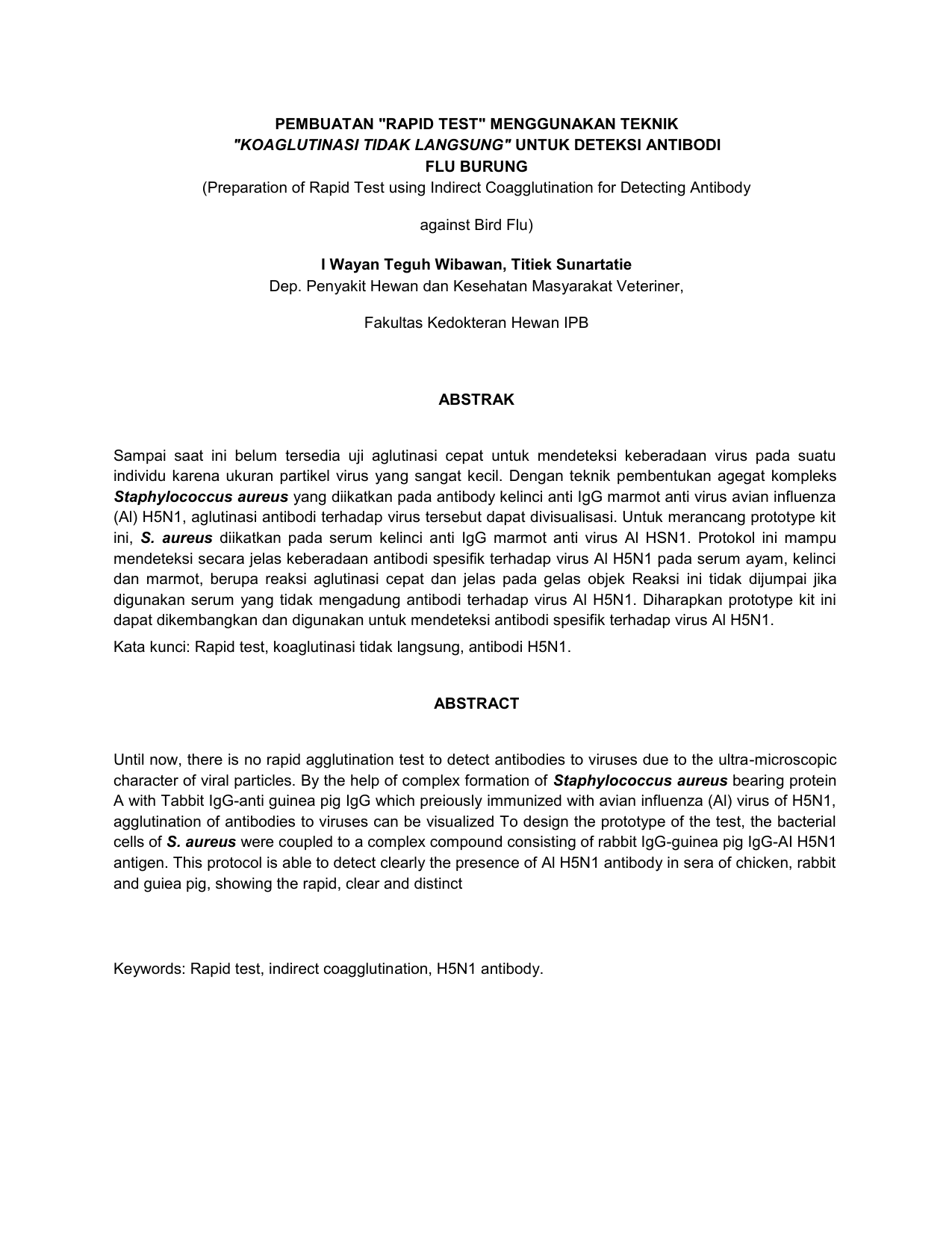 PEMBUATAN "RAPID TEST" MENGGUNAKAN TEKNIK
"KOAGLUTINASI TIDAK LANGSUNG" UNTUK DETEKSI ANTIBODI
FLU BURUNG
(Preparation of Rapid Test using Indirect Coagglutination for Detecting Antibody
against Bird Flu)
I Wayan Teguh Wibawan, Titiek Sunartatie
Dep. Penyakit Hewan dan Kesehatan Masyarakat Veteriner,
Fakultas Kedokteran Hewan IPB
ABSTRAK
Sampai saat ini belum tersedia uji aglutinasi cepat untuk mendeteksi keberadaan virus pada suatu
individu karena ukuran partikel virus yang sangat kecil. Dengan teknik pembentukan agegat kompleks
Staphylococcus aureus yang diikatkan pada antibody kelinci anti IgG marmot anti virus avian influenza
(Al) H5N1, aglutinasi antibodi terhadap virus tersebut dapat divisualisasi. Untuk merancang prototype kit
ini, S. aureus diikatkan pada serum kelinci anti IgG marmot anti virus Al HSN1. Protokol ini mampu
mendeteksi secara jelas keberadaan antibodi spesifik terhadap virus Al H5N1 pada serum ayam, kelinci
dan marmot, berupa reaksi aglutinasi cepat dan jelas pada gelas objek Reaksi ini tidak dijumpai jika
digunakan serum yang tidak mengadung antibodi terhadap virus Al H5N1. Diharapkan prototype kit ini
dapat dikembangkan dan digunakan untuk mendeteksi antibodi spesifik terhadap virus Al H5N1.
Kata kunci: Rapid test, koaglutinasi tidak langsung, antibodi H5N1.
ABSTRACT
Until now, there is no rapid agglutination test to detect antibodies to viruses due to the ultra-microscopic
character of viral particles. By the help of complex formation of Staphylococcus aureus bearing protein
A with Tabbit IgG-anti guinea pig IgG which preiously immunized with avian influenza (Al) virus of H5N1,
agglutination of antibodies to viruses can be visualized To design the prototype of the test, the bacterial
cells of S. aureus were coupled to a complex compound consisting of rabbit IgG-guinea pig IgG-AI H5N1
antigen. This protocol is able to detect clearly the presence of Al H5N1 antibody in sera of chicken, rabbit
and guiea pig, showing the rapid, clear and distinct
Keywords: Rapid test, indirect coagglutination, H5N1 antibody.