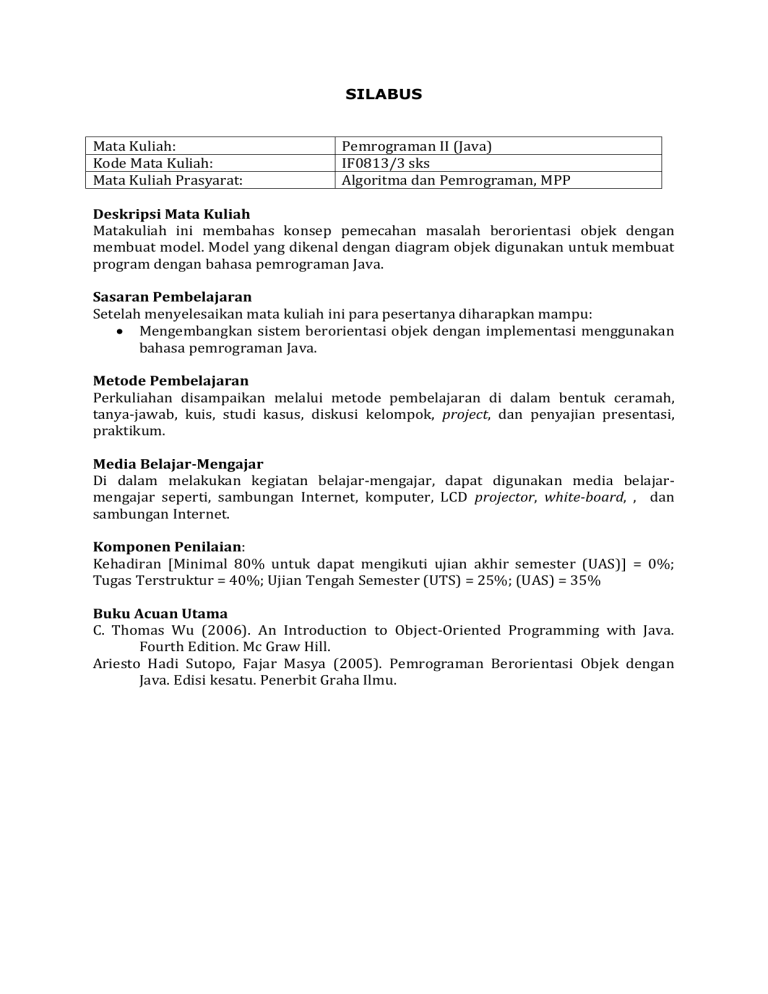 SILABUS
Mata Kuliah:
Kode Mata Kuliah:
Mata Kuliah Prasyarat:
Pemrograman II (Java)
IF0813/3 sks
Algoritma dan Pemrograman, MPP
Deskripsi Mata Kuliah
Matakuliah ini membahas konsep pemecahan masalah berorientasi objek dengan
membuat model. Model yang dikenal dengan diagram objek digunakan untuk membuat
program dengan bahasa pemrograman Java.
Sasaran Pembelajaran
Setelah menyelesaikan mata kuliah ini para pesertanya diharapkan mampu:
 Mengembangkan sistem berorientasi objek dengan implementasi menggunakan
bahasa pemrograman Java.
Metode Pembelajaran
Perkuliahan disampaikan melalui metode pembelajaran di dalam bentuk ceramah,
tanya-jawab, kuis, studi kasus, diskusi kelompok, project, dan penyajian presentasi,
praktikum.
Media Belajar-Mengajar
Di dalam melakukan kegiatan belajar-mengajar, dapat digunakan media belajarmengajar seperti, sambungan Internet, komputer, LCD projector, white-board, , dan
sambungan Internet.
Komponen Penilaian:
Kehadiran [Minimal 80% untuk dapat mengikuti ujian akhir semester (UAS)] = 0%;
Tugas Terstruktur = 40%; Ujian Tengah Semester (UTS) = 25%; (UAS) = 35%
Buku Acuan Utama
C. Thomas Wu (2006). An Introduction to Object-Oriented Programming with Java.
Fourth Edition. Mc Graw Hill.
Ariesto Hadi Sutopo, Fajar Masya (2005). Pemrograman Berorientasi Objek dengan
Java. Edisi kesatu. Penerbit Graha Ilmu.