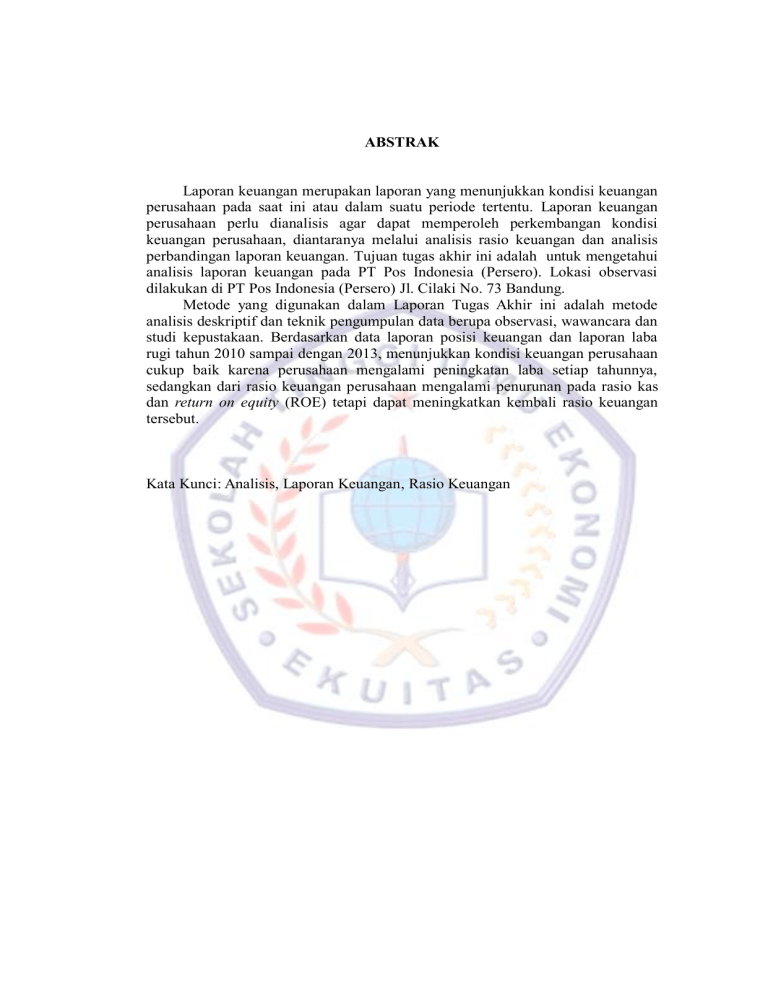 ABSTRAK
Laporan keuangan merupakan laporan yang menunjukkan kondisi keuangan
perusahaan pada saat ini atau dalam suatu periode tertentu. Laporan keuangan
perusahaan perlu dianalisis agar dapat memperoleh perkembangan kondisi
keuangan perusahaan, diantaranya melalui analisis rasio keuangan dan analisis
perbandingan laporan keuangan. Tujuan tugas akhir ini adalah untuk mengetahui
analisis laporan keuangan pada PT Pos Indonesia (Persero). Lokasi observasi
dilakukan di PT Pos Indonesia (Persero) Jl. Cilaki No. 73 Bandung.
Metode yang digunakan dalam Laporan Tugas Akhir ini adalah metode
analisis deskriptif dan teknik pengumpulan data berupa observasi, wawancara dan
studi kepustakaan. Berdasarkan data laporan posisi keuangan dan laporan laba
rugi tahun 2010 sampai dengan 2013, menunjukkan kondisi keuangan perusahaan
cukup baik karena perusahaan mengalami peningkatan laba setiap tahunnya,
sedangkan dari rasio keuangan perusahaan mengalami penurunan pada rasio kas
dan return on equity (ROE) tetapi dapat meningkatkan kembali rasio keuangan
tersebut.
Kata Kunci: Analisis, Laporan Keuangan, Rasio Keuangan
ABSTRACT
The financial statements is a report that shows the financial condition of
the company at this time or within a certain period. The financial statements of
the company need to be analyzed in order to obtain the development condition of
the company, including through financial ratio analysis and comparative analysis
of financial statement. The purpose of this thesis to determine the analysis of
financial statements of PT Pos Indonesia (Persero). Location observations made
in PT Pos Indonesia (Persero) Jl. Cilaki No. 73 Bandung.
The method used in this final report is a descriptive analysis methods and
data collection techniques such as observation, interviews and literature study.
Based on data from the balance sheet and the income statement of 2010 to 2013,
shows the company's financial condition is good enough because the company has
increased profits every year, while the company's financial ratios decreased in the
ratio of cash but can increase the financial return ratios.
Keywords: Analysis, The financial statements, Financial ratios.