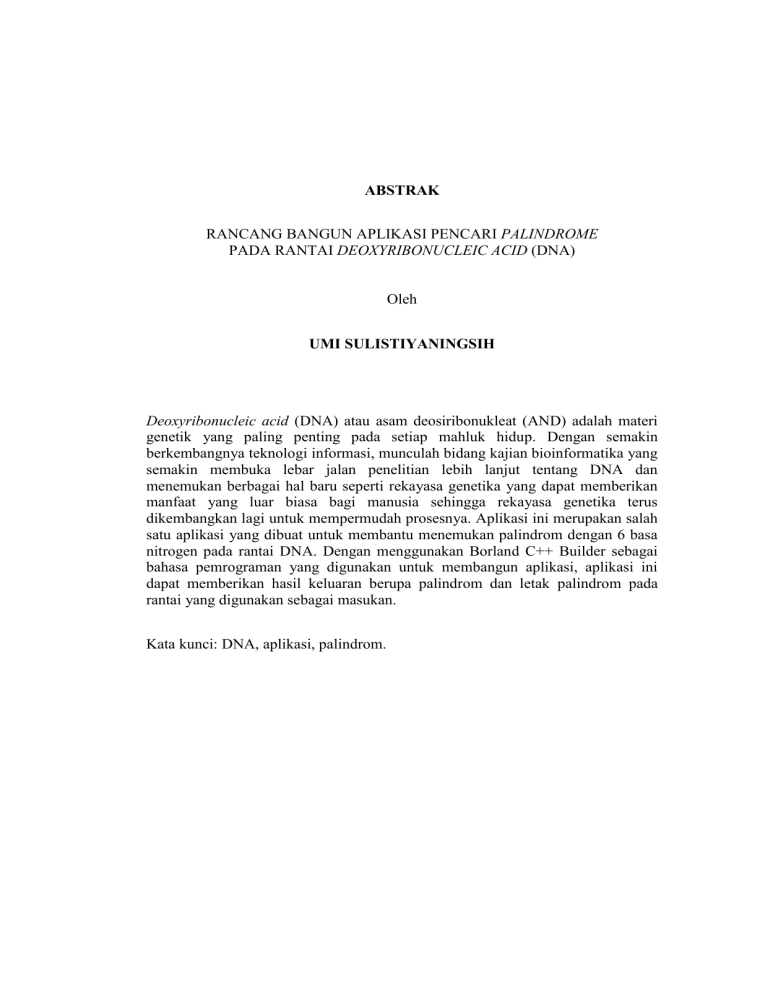 ABSTRAK
RANCANG BANGUN APLIKASI PENCARI PALINDROME
PADA RANTAI DEOXYRIBONUCLEIC ACID (DNA)
Oleh
UMI SULISTIYANINGSIH
Deoxyribonucleic acid (DNA) atau asam deosiribonukleat (AND) adalah materi
genetik yang paling penting pada setiap mahluk hidup. Dengan semakin
berkembangnya teknologi informasi, munculah bidang kajian bioinformatika yang
semakin membuka lebar jalan penelitian lebih lanjut tentang DNA dan
menemukan berbagai hal baru seperti rekayasa genetika yang dapat memberikan
manfaat yang luar biasa bagi manusia sehingga rekayasa genetika terus
dikembangkan lagi untuk mempermudah prosesnya. Aplikasi ini merupakan salah
satu aplikasi yang dibuat untuk membantu menemukan palindrom dengan 6 basa
nitrogen pada rantai DNA. Dengan menggunakan Borland C++ Builder sebagai
bahasa pemrograman yang digunakan untuk membangun aplikasi, aplikasi ini
dapat memberikan hasil keluaran berupa palindrom dan letak palindrom pada
rantai yang digunakan sebagai masukan.
Kata kunci: DNA, aplikasi, palindrom.
ABSTRCT
THE DEVELOPMENT OF PALINDROME SEARCHING APPLICATION
AT DEOXYRIBONUCLEIC ACID'S SEQUENCE
By
UMI SULISTIYANINGSIH
Deoxyribonucleic acid (DNA) is the most important genetic element of organism.
Bioinformatics, the study about biology and it's relationship with information
technology found that there are a lot of information on DNA that can be used for
better life. Palindrome is an important thing on DNA because most of genetical
engineering happen on palindrome. Therefore, we develop an application for
searching palindrome based on C++ programming.
Keywords: DNA, application, palindrome.