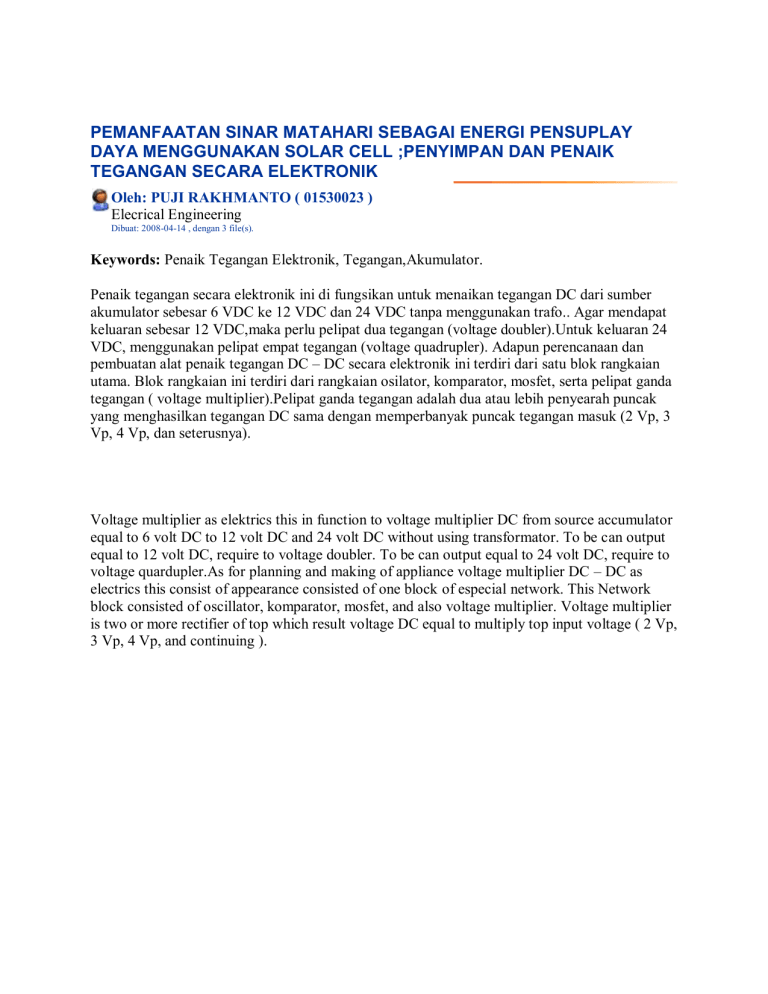 PEMANFAATAN SINAR MATAHARI SEBAGAI ENERGI PENSUPLAY
DAYA MENGGUNAKAN SOLAR CELL ;PENYIMPAN DAN PENAIK
TEGANGAN SECARA ELEKTRONIK
Oleh: PUJI RAKHMANTO ( 01530023 )
Elecrical Engineering
Dibuat: 2008-04-14 , dengan 3 file(s).
Keywords: Penaik Tegangan Elektronik, Tegangan,Akumulator.
Penaik tegangan secara elektronik ini di fungsikan untuk menaikan tegangan DC dari sumber
akumulator sebesar 6 VDC ke 12 VDC dan 24 VDC tanpa menggunakan trafo.. Agar mendapat
keluaran sebesar 12 VDC,maka perlu pelipat dua tegangan (voltage doubler).Untuk keluaran 24
VDC, menggunakan pelipat empat tegangan (voltage quadrupler). Adapun perencanaan dan
pembuatan alat penaik tegangan DC – DC secara elektronik ini terdiri dari satu blok rangkaian
utama. Blok rangkaian ini terdiri dari rangkaian osilator, komparator, mosfet, serta pelipat ganda
tegangan ( voltage multiplier).Pelipat ganda tegangan adalah dua atau lebih penyearah puncak
yang menghasilkan tegangan DC sama dengan memperbanyak puncak tegangan masuk (2 Vp, 3
Vp, 4 Vp, dan seterusnya).
Voltage multiplier as elektrics this in function to voltage multiplier DC from source accumulator
equal to 6 volt DC to 12 volt DC and 24 volt DC without using transformator. To be can output
equal to 12 volt DC, require to voltage doubler. To be can output equal to 24 volt DC, require to
voltage quardupler.As for planning and making of appliance voltage multiplier DC – DC as
electrics this consist of appearance consisted of one block of especial network. This Network
block consisted of oscillator, komparator, mosfet, and also voltage multiplier. Voltage multiplier
is two or more rectifier of top which result voltage DC equal to multiply top input voltage ( 2 Vp,
3 Vp, 4 Vp, and continuing ).