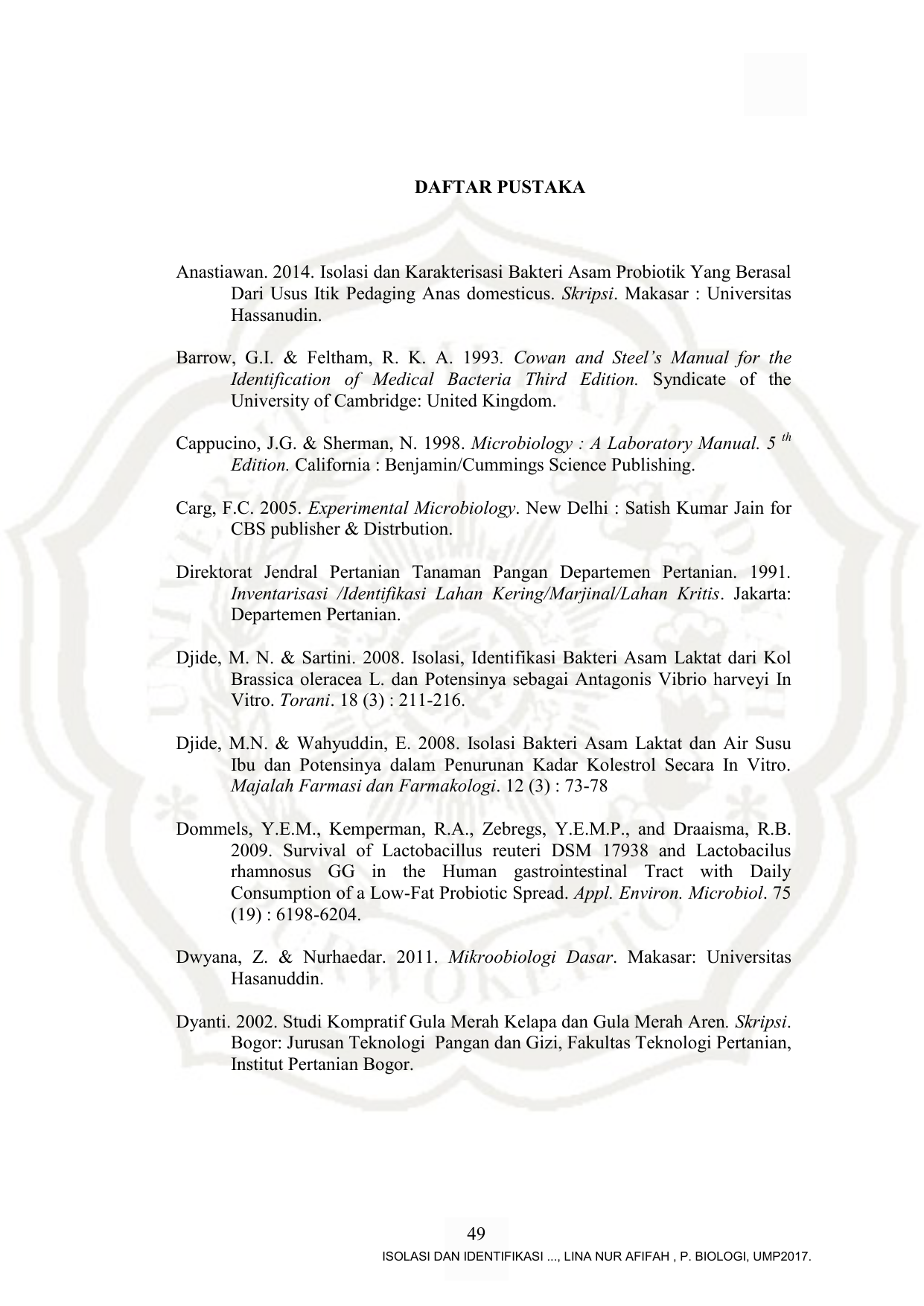 49
DAFTAR PUSTAKA
Anastiawan. 2014. Isolasi dan Karakterisasi Bakteri Asam Probiotik Yang Berasal
Dari Usus Itik Pedaging Anas domesticus. Skripsi. Makasar : Universitas
Hassanudin.
Barrow, G.I. & Feltham, R. K. A. 1993. Cowan and Steel's Manual for the
Identification of Medical Bacteria Third Edition. Syndicate of the
University of Cambridge: United Kingdom.
Cappucino, J.G. & Sherman, N. 1998. Microbiology : A Laboratory Manual. 5
Edition. California : Benjamin/Cummings Science Publishing.
th
Carg, F.C. 2005. Experimental Microbiology. New Delhi : Satish Kumar Jain for
CBS publisher & Distrbution.
Direktorat Jendral Pertanian Tanaman Pangan Departemen Pertanian. 1991.
Inventarisasi /Identifikasi Lahan Kering/Marjinal/Lahan Kritis. Jakarta:
Departemen Pertanian.
Djide, M. N. & Sartini. 2008. Isolasi, Identifikasi Bakteri Asam Laktat dari Kol
Brassica oleracea L. dan Potensinya sebagai Antagonis Vibrio harveyi In
Vitro. Torani. 18 (3) : 211-216.
Djide, M.N. & Wahyuddin, E. 2008. Isolasi Bakteri Asam Laktat dan Air Susu
Ibu dan Potensinya dalam Penurunan Kadar Kolestrol Secara In Vitro.
Majalah Farmasi dan Farmakologi. 12 (3) : 73-78
Dommels, Y.E.M., Kemperman, R.A., Zebregs, Y.E.M.P., and Draaisma, R.B.
2009. Survival of Lactobacillus reuteri DSM 17938 and Lactobacilus
rhamnosus GG in the Human gastrointestinal Tract with Daily
Consumption of a Low-Fat Probiotic Spread. Appl. Environ. Microbiol. 75
(19) : 6198-6204.
Dwyana, Z. & Nurhaedar. 2011. Mikroobiologi Dasar. Makasar: Universitas
Hasanuddin.
Dyanti. 2002. Studi Kompratif Gula Merah Kelapa dan Gula Merah Aren. Skripsi.
Bogor: Jurusan Teknologi Pangan dan Gizi, Fakultas Teknologi Pertanian,
Institut Pertanian Bogor.
49
ISOLASI DAN IDENTIFIKASI ..., LINA NUR AFIFAH , P. BIOLOGI, UMP2017.
50
FAO/WHO. 2001. Joint FAO/WHO Expert Consultation on Evaluation of Health
and Nutritional Properties of Probiotics in Food Including Powder Milk
with Live Lactic Acid Bacteria. Amerian Córdoba Park Hotel, Cordoba,
Argentina.
Fardiaz, Srikandi. 1993. Analisis Mikrobiologi Pangan. Jakarta: PT.Raja Grafindo
Persada.
Farida, Eko. 2006. Seleksi Dan Pengujian Bakteri Asam Laktat Kandidat
Probiotik Hasil Isolat Lokal Serta Kemampuannya Dalam Menghambat
Sekresi Interleukin-8 Dari Alur Sel Hct 116. Thesis. Bogor (ID) : IPB.
Gilliland, S. E. 1985. Bacterial Starter Cultures for Foods. Florida: CRC-Press,
Inc. Boca Raton.
Hartanti, A.W. 2007. Seleksi bakteri asam laktat yang berpotensi sebagai
probiotik dari isolat susu ibu. Skripsi. Bogor (ID) : IPB.
Hendriani, R., Rostinawati, T. dan
Kusuma, S.A.F. 2009. Penelusuran
Antibakteri Bakteriosin dari Bakteri Asam Laktat dalam Yoghurt Asal
Kabupaten Bandung Barat terhadap Staphylococcus aureus dan
Escherichia coli. Laporan Akhir Penelitian Peneliti Muda (LITMUD)
UNPAD. Universitas Padjadjaran: Lembaga Penelitian Dan Pengabdian
Kepada Masyarakat
Holt, J.G., Krieg, N.R., Sneath, P.H.A., Staley, J.T., and Williams, S.T. 1994.
Bergey's Manual Of Determinative Bacteriology 9th Edition. USA:
William and Wilkins.
Irianto, K. 2012. Mikrobiologi Menguak Dunia Mikroorganisme Jilid I. Bandung:
Yrama Widya.
ISAPP. 2009. Clarification of the Definition of a Probiotic. Available at;
www.isapp.net. Opened : Nopember 21, 2010.
Jeffrey, C. & Pommerville, J.C. 2010. Microbial Growth and Nutrition (Chapter
5). Sudbury MA: Jones & Bartlett Learning Publisher.
Jenie, B. S. L. 1996. Peranan bakteri asam laktat sebagai pengawet hayati
makanan. J. Ilmu dan Teknologi Pangan. (6)2: 46-51.
Kusumawati, N., Bettysri, L J., Siswa S., Ratihdewanti dan Hariadi. 2003. Seleksi
Bakteri Asam Laktat Indigenous sebagai Galur Probiotik dengan
Kemampuan Menurunkan Kolesterol. Journal Mikrobiologi Indonesia.
8(2): 39-43.
ISOLASI DAN IDENTIFIKASI ..., LINA NUR AFIFAH , P. BIOLOGI, UMP2017.
51
Meisji, L.S., Abrar, A., Merint. 2013. Isolasi dan Identifikasi Bakteri Asam Laktat
pada Usus Ayam Broiler. Agripet : 13(1): 43-48
Muchtadi, T.R. & Sugiono. 1992. Ilmu Pengetahuan Bahan Pangan. Departemen
Pendidikan dan Kebudayaan. Direktorat Jenderal Tinggi Pusat Antar
Universitas Pangan dan Gizi. Bogor: Institut Pertanian Bogor.
Nilsson, L., Chen, M.L., Chikindas, H.H., Huss, L., Gram, and Montville, T.J.
2000. Carbon dioxide and nisin act synergistically on Listeria
monocytogenes. Journal of Applied Environmental Microbiology. 66(2):
769-774.
Nuryady, M.M., Istiqomah, T., Faizah, R., Ubaidillah, S., Mahmudi, Z dan
Sutoyo. 2013. Isolasi dan Identifikasi Bakteri Asam Laktat Asal Youghurt.
Jurnal UNEJ. 1(5): 1-11.
Playne, M.J. 1999. Classification and Identificationof Probiotic Bacteria Strains.
Probiotica. 7: 1-5.
Ray.1992. Sublethal injury, Bacteriocins and Food Biorepservatives of Microbial
Origin. ASM Nes. 59:285-291
Rofle. 2000. The Role of Probiotic Cultures in the Control of Gastrointestinal
Healt. Journal of Noutrition. 130: 396-402.
Rumokoi, M. 1990. Manfaat Tanaman Aren. Buletin Balitka 10(2): 21–28.
Russel, J. B., 1992. Another Explanation for The Toxicitry of Fermentation Acid
at Low pH : Anion Accumulation versus Uncoupling, J. Appl. Bacterial
73: 363 – 370.
Santoso, H.B. 1995. Pembuatan Gula Kelapa. Yogyakarta: Kanisius.
Savadogo, A., Ouattara. Cheik, A.T., Bassole. Imael, H.N., Traore S., 2006.
Bacteriocins and lactic acid bacteria – a minireview., African Journal of
Biotechnology.5(9): 678-683.
Shin, S.Y., Klienbenstein, J., Hayes, DJ., dan Shorgen, JP., 1992. Consumer
willingnes to pay safer products. J. Food Safety 13 (1): 51-59.
Shitandi, A., M. Alfred, and Symon, M. 2007. Probiotic characteristic of
lactococcus strain from local fermented Amaranthus hybrydus and
Solanum nigrum. African Crop Science Confrence Proceedings 8:18091812.
ISOLASI DAN IDENTIFIKASI ..., LINA NUR AFIFAH , P. BIOLOGI, UMP2017.
52
Siegumfeldt, H., Bjorn. Rechinger, K. dan Jakobsen, M. 2000. Dynamic changes
of intracellular pH in individual lactic acid bacterium cells in response to a
rapid drop in extracellular pH. Appl Environ Microbiol 66(6): 2330–2335.
Simadibrata, M. 2010. Probiotik-Peranannya dalam Dunia Medis. Jakarta:
Universitas Indonesia.
Surono, I.S. 2004. Probiotik Susu Fermentasi dan Kesehatan. Yayasan Pengusaha
Makanan dan Minuman Seluruh Indonesia (YAPMMI). Jakarta: TRICK.
Smet, I.D., Van, L., Woestyne, M.V., Christiaens , H. and Verstraete. W. 1995.
Significance of bile salt hydrolytic activities of lactobacilli. J. Appl.
Bacteriol. 79: 292-301.
Soeroso, L. 1993. Petunjuk Praktikum Mikrobiologi. Laboratorium Mikrobiologi.
Jurusan Biologi. Purwokerto : UNSOED
Sopandi, Tatang. 2014. Mikrobiologi Pangan. Yogyakarta: C.V Andi offset.
Suardana, W. 2007. Isolasi dan Identifikasi Bakteri Asam Laktat dari Cairan
Rumen Sapi Bali sebagai Kandidat Biopreservatif. J. Veteriner 8 (4): 155159.
Sunaryanto, S. & Marwoto, B. 2012. Isolasi, Identifikasi, dan Karakterisasi
bakteri asam laktat dari dadih susu kerbau. Jurnal Sains dan Teknologi
Indonesia, 14(3): 228-33.
Volk & Wheeler. 1988. Mikrobiologi Dasar. Edisi Kelima. Jilid I. Jakarta:
Penerbit Erlangga..
Waluyo, L. 2007. Mikrobiologi Umum. Malang: UMM Press.
Weichselbaum, E. 2009. Probiotics and health: a review of the evidence. Nutrition
Bulletin. 34:340–373.
Widodo. 2003. Mikrobiologi Pangan dan Industri Hasil Ternak. Yogyakarta:
Lactica Press
Wildman, R.E.C., & Medeiros, D.M. 2000. Advanced Human Nutrition. Boca
Raton : CRC Press LLC.
Wiluyandari, N. 2013. Isolasi dan Identifikasi Bakteri pada Ikan Bandeng
(Chonas chanos) Asap yang telah mengalami pembusukan . Skripsi.
Purwokerto : Fakultas Keguruan dan Ilmu Pendidikan, Universitas
Muhammadiyah Purwokerto
ISOLASI DAN IDENTIFIKASI ..., LINA NUR AFIFAH , P. BIOLOGI, UMP2017.
53
Yang, Y. S., Chen, M. C., and Liao, C. C. 2001. Mutant bifidobacteria strains with
acid, bile salt and oxygen tolerance. U.S. Patent Appl. 38: 63-66.
ISOLASI DAN IDENTIFIKASI ..., LINA NUR AFIFAH , P. BIOLOGI, UMP2017.