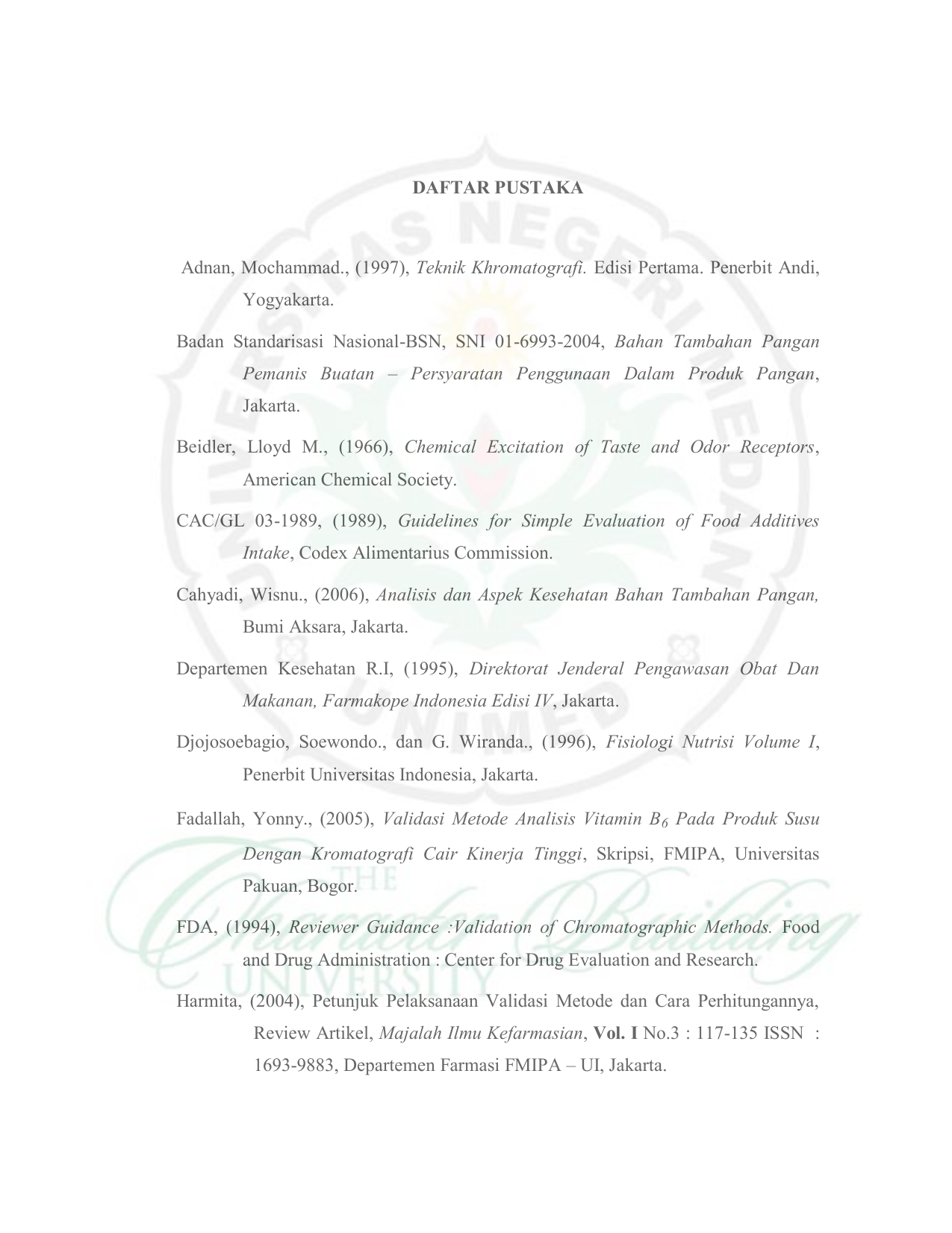 DAFTAR PUSTAKA
Adnan, Mochammad., (1997), Teknik Khromatografi. Edisi Pertama. Penerbit Andi,
Yogyakarta.
Badan Standarisasi Nasional-BSN, SNI 01-6993-2004, Bahan Tambahan Pangan
Pemanis Buatan – Persyaratan Penggunaan Dalam Produk Pangan,
Jakarta.
Beidler, Lloyd M., (1966), Chemical Excitation of Taste and Odor Receptors,
American Chemical Society.
CAC/GL 03-1989, (1989), Guidelines for Simple Evaluation of Food Additives
Intake, Codex Alimentarius Commission.
Cahyadi, Wisnu., (2006), Analisis dan Aspek Kesehatan Bahan Tambahan Pangan,
Bumi Aksara, Jakarta.
Departemen Kesehatan R.I, (1995), Direktorat Jenderal Pengawasan Obat Dan
Makanan, Farmakope Indonesia Edisi IV, Jakarta.
Djojosoebagio, Soewondo., dan G. Wiranda., (1996), Fisiologi Nutrisi Volume I,
Penerbit Universitas Indonesia, Jakarta.
Fadallah, Yonny., (2005), Validasi Metode Analisis Vitamin B 6 Pada Produk Susu
Dengan Kromatografi Cair Kinerja Tinggi, Skripsi, FMIPA, Universitas
Pakuan, Bogor.
FDA, (1994), Reviewer Guidance :Validation of Chromatographic Methods. Food
and Drug Administration : Center for Drug Evaluation and Research.
Harmita, (2004), Petunjuk Pelaksanaan Validasi Metode dan Cara Perhitungannya,
Review Artikel, Majalah Ilmu Kefarmasian, Vol. I No.3 : 117-135 ISSN :
1693-9883, Departemen Farmasi FMIPA – UI, Jakarta.
Hughes, Christoper., (1987), The Additive Guide, John Wile and Sons, New York.
ICH, (1994), Text on Validation of Analytical Procedures: Q2A. Recommended
for Adoption at Step 4 of the ICH Process. International Conference of
Harmonisation of Technical Requirements for Registration of
Pharmaceutical for Human Use.
Johnson, E. L., and Steven son, R., (1978), Basic Liquid Chromatography, Varian,
California.
Kimia Indonesia, (2011), High Performance Liquid Chromatography (HPLC),
http://indonesiakimia.blogspot.com/2011/05/high-performance-liquidchromatography.html, Diakses tanggal 06 Februari 2013.
Lipinski, G.R., (2002), Sweeteners. Food Chemical Safety Volume 2: Additives.
Edited by: D.H. Watson, Woodhead Publishing Limited and CRC Press.
Luthana, K. Yongki., (2008), Sakarin, http://yongkikastanyaluthana. Wordpress.com,
Diakses tanggal 03 April 2012.
MA PPOM No.45/MA/92.
Mulja, M., (1995), Analisis Instrumental, Penerbit ITB, Bandung.
Mulyati, Ade Heri., Sutanto, dan Apriyani, Dewi., (2011), Validasi Metode Analisis
Kadar Ambroksol Hidroklorida Dalam Sediaan Tablet Cystelis Secara
Kromatografi Cair Kinerja Tinggi, Jurnal Ekologia, Vol. 11 No.2
: 36 – 45, FMIPA, Universitas Pakuan, Bogor.
Novelina, Yus Maria., Sutanto, dan Fatimah, Alia., (2009), Validasi Metoda Analisis
Penetapan Kadar Senyawa Siklamat dalam Minuman Ringan, Prosiding PPI
Standarisasi 2009, Jakarta.
Nur, M. A., dan H, Adijuwana., (1989), Teknik pemisahan Dalam Analisis Biologi.
Pusat Antar Universitas Ilmu Hayat, Institut Pertanian Bogor.
Pecsok, R. L., and L.D, Shields., (1978), Modern Metods Of Chemical Analysis.
Second Edition, John Wiley and Sons, New York.
Perry, R.H., and C.H, Chilton., (1973), Chemical Engineers' Handbook, 5th ed.
Mc.Graw-Hill, Kogakusha, Ltd.
Putra, Effendy de Lux., 2004, Kromatografi Cair Kinerja Tinggi Dalam Bidang
Farmasi, Jurusan Farmasi, FMIPA, Universitas Sumatera Utara.
Rohman, A., (2007), Kimia Farmasi Analisis, Pustaka Pelajar,Yokyakarta.
Shabir, G. A., (2003), Validation of High- Performance Liquid chromatography
Methods for Pharmaceutical analysis: understanding the differences and
similarities between validation requirements of the US Food and Drug
Administration, the US Pharmacopeia and the International Conference on
Harmonization. J. Chromatogr. A 987 : 57-66.
Shah, V.P., Midha, K.K., Findlay, J. W., Hill, W. M., Hulse, J. D., McGilveray, I. J.,
McKay, G., Miller, K. J., Patnaik, R. N., Powell, M. L., Tonelli, A.,
Viswanathan, C. T., Yacobi, A., (2000), Bioanalytical method validation: a
revisit with a decade of progress. Pharm. Res. 17(12): 1551-1557.
Sinulingga, Ranitha., (2011), Penentuan Kadar Sakarin Dalam Beberapa Jenis
Minuman Jajanan Yang Dipasarkan di SD Negeri No. 064025 Jln.
Flamboyan Kelurahan Simpang Selayang Kecamatan Medan Tuntungan
Secara Kromatografi Cair Kinerja Tinggi, Skripsi, FMIPA Universitas
Sumatera Utara.
Snyder, L. R., and Kirkland J.J., (1979), Introduction to modern liquid
chromatography. second edition, John Wiley & Sons, Inc NewYork,
Chihester, Briebane, Toronto, Singapore.
Sopyan, Iyan., Rahayu, Driyanti., dan Maulana, Rijal Syahril., (2009), Validasi
Metode Analisis Senyawa Cefotaxime Dengan Standar Internal Cefadroxil
Secara Kromatografi Cair Kinerja Tinggi, Jurnal Farmaka, Volume 7 No.2,
Fakultas Farmasi, Universitas Padjadjaran, Jatinangor.
Subani, (2008), Penentuan Kadar Natrium Benzoat, Kalium Sorbat, dan Natrium
Sakarin Dalam Sirup Dengan Metode Kromatografi Cair Kinerja Tinggi
(KCKT) Di Balai Besar Pengawasan Obat dan Makanan Medan, Karya
Ilmiah, Program Studi Diploma III Kimia Analis FMIPA Universitas
Sumatera Utara.
Syah, Dahrul., dkk., (2005), Manfaat dan Bahaya Bahan Tambahan Pangan,
Fakultas Teknologi Pertanian IPB, Bogor.
Wells, Margaret., and Dantus, Mauricio., (2005), Analytical Instrumentation
Handbook "Validation of Chromatographic Methods", Merck & Co. Inc,
Rahway, NJ, USA.
Winarno, G.F., (1991), Kimia Pangan dan Gizi, PT. Gramedia Pustaka Utama,
Jakarta.
Woodroof, J.G., and G.F, Philips., (1974), Beverages : Carbonated and
Noncarbonated, The AVI Publishing Company, Inc, Westport, Connecticut.